When I browse food blogs, or recipe web sites, I usually talk to myself. I say the title of the recipe out loud and then voice whether I think it would taste good or not. Well, while visiting my friend Brenda's blog
Brenda's Canadian Kitchen
; I happened to see this recipe and mentioned the name, out loud. Hubby who was sitting across from me, lifted his head and said "I'd try those!!". So, on the menu they went. And am I ever glad they did. These were awesome!! I really love how you make the filling patties and freeze them, so that they don't ooze all out of the burger. Mine ended up oozing, since I don't think I made the burgers thin enough, so by the time meat cooked through, the filling was melty and oozy.
No matter! Most of the filling stayed in; so we still got to enjoy each and every cheesy spicy bite of burger. The beef itself was nicely seasoned with the grated onion. I loved the ooey cheese, paired with the slightly hot jalapenos. I used 2 roasted jalapenos, made myself one filling disk and then added a fresh jalapeno for the boys. I knew this would be way too spicy for the kids, so I just made them plain burgers, using the beef mixture. I'm pretty sure Hubby mentioned 4 times, during the course of the meal, that these were "amazing! Definitely a keeper!". So a big Thanks to Brenda, for posting these!!!
Jalapeno Popper Cheeseburgers
Adapted from Canadian Living Magazine-June 2011
printable version
1 egg
1 small onion, grated and drained
1/4 cup dried bread crumbs
1/2 tsp. salt
1/4 tsp. pepper
1 lb. lean ground beef
Three-quarters sweet onion, cut in 4 thick rounds
2 tsp. olive oil
Pinch each salt and pepper
4 hamburger buns
Cheese Filling
1 cup shredded old Cheddar cheese
1/4 cup cream cheese, softened
1/4 cup chopped drained pickled jalapeno peppers
2 T chopped fresh parsley
Cheese Filling
:
In bowl, stir together Cheddar cheese, cream cheese, jalapeno peppers and parsley. Divide into quarters; flatten each to 2 1/2-inch circle. Freeze on tray for 15 minutes.
In bowl, whisk together egg, grated onion, bread crumbs, salt and pepper; mix in beef. Shape into 8 balls. Flatten each into 5-inch wide patty. Top 4 of the patties with cheese circle; top with remaining patties, gently pressing and pinching edges to seal. Refrigerate for 30 minutes.
Place patties on greased grill over medium heat; close lid and grill, turning once.
Meanwhile, brush sweet onion rounds with oil; sprinkle with salt and pepper. Grill over medium heat, turning once, until softened and caramelized, 8 to 10 minutes.
Sandwich burgers and onion in buns.
Makes 4 burgers.
Cindy's notes:
I used 2 roast jalapenos and 1 fresh. I also doubled the recipe to make 8 burgers.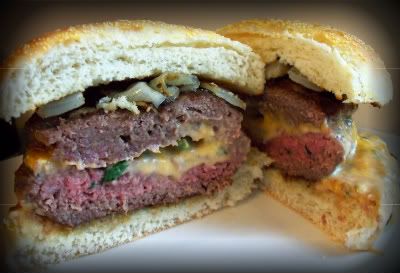 This post linked to