Happy Monday!
Are you a foodie? I sure am and I am extremely happy to have found a wonderful blog hop, that lets all of us who have passion for food, to get together.
Make a
Food-"e"-Friend Monday
, is hosted every Monday by The Lucky Wife, over at
the
Saturday Evening Pot, another food and recipe blog
. It's a spectacular way of
linking up some of your recipes and seeing what others, like you, are cooking up in their kitchens.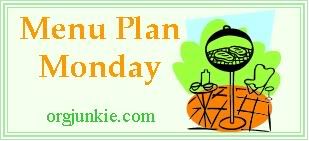 This week is a little up in the air with the meal planning. Hubby is off all week, on vacation and we've decided to do a few day trips, here and there, since Mr.B is still in school. So, this will mean a bit of eating out, or take out; after a long but fun day. On the days Mr.B will be in school, I'm sure we will be enjoying some delights on the BBQ. So I will plan for 5 days of supper and 2 days out. If we eat out most of the week, that's fine with me, LOL.
Steaks, baked potatoes and vegetable kebabs, all on the grill
Grilled chicken with pasta salad
Pierogies and sausage, with a tomato cucumber salad
Black Bean Veggie Burgers (new recipe) with a Greek salad
Don't forget to head over to
OrgJunkie.com
, for many other great meal plans, for the week.