Happy Monday! I hope everyone had a fabulous weekend and took the time to wish their father's a Happy Father's Day.
After 1o days of Hubby being home, he had to return to work this morning. I have to say, that I really enjoyed having him home. We had such a wonderful vacation, visiting attractions close to home. This is the first time we've had a family vacation, that didn't involve us having to drive countless hours to visit my, or Hubby's parents. We were able to relax, go at our own pace and enjoy being together.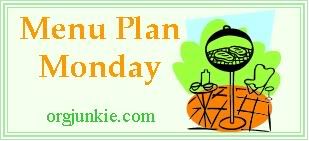 As a result of Hubby's vacation, I haven't really thought about this week's meal plan. Since we've done a lot of eating out, last week, I plan of getting some healthy home cooked food back into our bellies. Here is the plan
Grilled chicken sandwiches with coleslaw
Jalapeno popper burgers (new recipe) with sweet potato fries
Black Bean Burgers (new recipe) with a salad
Summer Corn Fettuccine (new recipe)
Tacos
Pierogies with grilled Italian sausages and baked beans
Leftovers
Head on over to
OrgJunkie.com
, for more great meal plans!