Happy Monday!
It's so nice to see some sunshine, after 4 days of clouds and rain. We were starting to get a little stir crazy, but a nice trip to the strawberry patch, helped some. Despite the rain we had fun and came home with 3 baskets of strawberries; 11 litres in total. I was also able to snag some new baby potatoes, sugar snap peas , asparagus and of course rhubarb. Strawberry and rhubarb is one of my favorite combinations.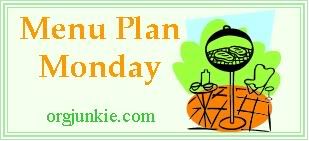 This week is Mr.B's last week of school. Summer vacation officially begins on Wed and he is super excited!! I am somewhat excited, I just dread the moodiness that ensues when he lacks the structure of school. I'll have to try and plan a lot of activities to keep him busy this summer. I'm hoping the nice weather stays with us all week, since grilling, seems easier than cooking on the stove. Less clean up and I just love grilled food. So most of the menu will revolve around my hopes for nice weather.
Burgers with potato salad and roast asparagus
Grilled pizza (BBQ chicken and/or Canadian) with Caesar salad
Fish and chips with corn on the cob
waffles with fresh fruit salad
Pierogies with bacon, onion and cheese; tossed salad
assorted subs with all the fixins; sweet potato fries
Leftovers
Head on over to
OrgJunkie.com
, for more great meal plans!