Happy Monday!! Yesterday was the last day of the
Real Women of Philadelphia
contest. I was able to get 2 additional desserts in; so now it's up to the judges. It will be weird not having videos to look forward to making. I may just keep making videos, once a month or so, just for fun.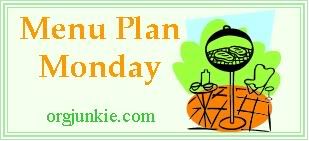 This week is sure to be a LONG one. I say that because, Hubby's last day off was last Wednesday and he will not be off again until Friday. However, Friday starts his 10 day vacation. Since Mr. B still has a few weeks of school left, we'll be doing a stay-cation, with day trips to fun stuff close to home. Two things I'm looking forward to this week are
1. a visit from one of our best friends. She will spend the night Wed; she and Hubby will go golfing Thurs morning and we will take the kids to a near by nature park that has some wild animals on display, for a picnic.
2. I've invited our neighbours over for dinner, this weekend.
I'm carrying most of the recipes over from last week, since I deterred from the meal plan so much, LOL. So here is what's on the menu this week
Grilled chicken sandwiches with homemade coleslaw
Gluten and soy free waffles with Apple Pear Compote (new recipe)
Grilled BBQ Chicken Pizza (new recipe) with cucumber tomato salad
Grilled Chops with grilled veggie kabobs (zucchini, peppers, onion)
Bacon wrapped egg sandwiches (new recipe) with fruit salad
Hubby's BBQ ribs, potato salad, hot dogs for the kids, grilled corn on the cob and grilled strawberry shortcake (new recipe)
Leftovers
Head on over to
OrgJunkie.com
, for tons of other great meal plans!