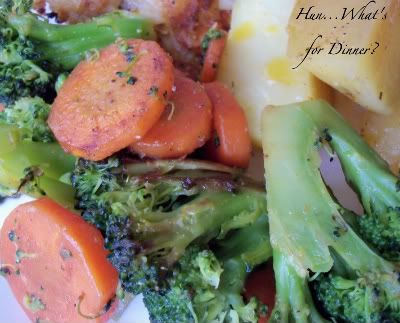 I have to admit that lately, I've become a bit of a veg head. Now that I am able to, I'm eating more veggies and enjoying them again. This method of cooking them was shared with us on
Cooking for your Family
. There had been an oven roast broccoli recipe floating around. It was summer and one of the members of the forum wanted roast broccoli, but did not want to use her oven. So she pan roasted them, with great success.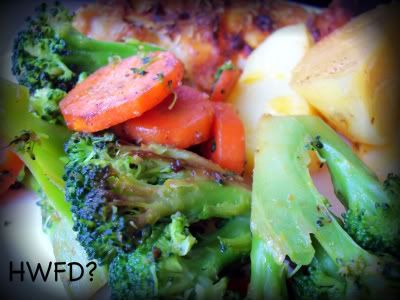 This is really just a method, that I'd like to share today. You can use any veggie you prefer (asparagus, cauliflower and green beans would also work well) and any seasonings you prefer (if it's just Hubby and I, I sometimes throw n some Cajun seasoning, for a kick). This time I chose broccoli and carrots; two veggies I know the kids love. I went the simple route with the seasonings; salt, pepper, garlic and a squeeze of lemon right at the end. The veggies get slightly browned and sweet. It really is a quick and so delicious way to prepare vegetables.
Pan Roasted Broccoli (veggies)
Submitted by Rachel
printable version
Cut broccoli into small flowerets, mince a WHOLE bunch of garlic (maybe 4 cloves), and toss in a skillet with olive oil and salt and pepper.
Rachel's Notes: I don't really have a set time to keep in on, I just taste a piece and if it still has a nice 'bite' to it, it's ready. I started doing this in the beginning of summer when I didn't want to roast it in the oven, and now it's my favorite way to have fresh broccoli.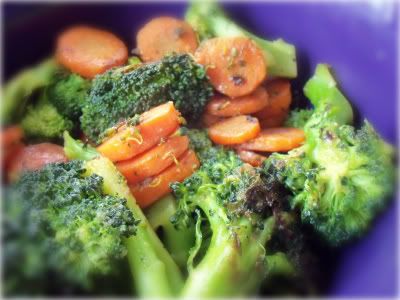 This post linked to