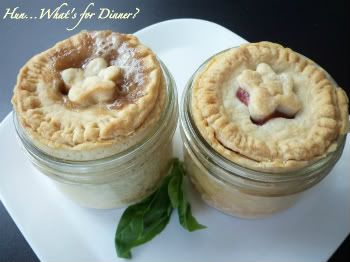 While I was searching on line, for a cute gift, to make for Mr.B's teacher, I found this cute idea; over at
Our Best Bites
. I really liked the idea of little individual pies. The bonus was, they can be kept in the freezer, until you have that craving for pie. There is always such stress about making a whole pie. If there is some leftover, how do you store it? On the counter? The fridge? What if only one person wants pie? What if you are sitting watching TV by yourself and the pie craving gets you? Are you more likely to go to the kitchen and make one big pie, or just grab this cute little pie and bake it up? I'd go with the little pie everytime, LOL.
These were pretty easy to make. I decided to fill them with apple and strawberry rhubarb, since those are some of our favorite pie flavors. The result was a flaky little pie, full of wonderful goddness. Hubby was really interested in this concept and the kids just loved their own little pies in a jar. These would be great Christmas gifts, or a nice little something to share with friends and neighbours.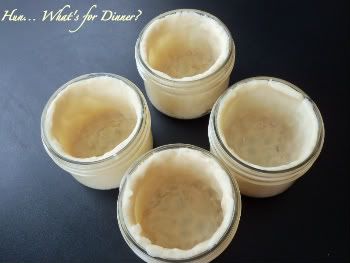 Press the pie dough into your mason jars (short and fat 1/2 pint/250ml jars), so that it completely covers the bottom and sides. If you are not a pie dough maker, then feel free to use store bought pie dough. What ever works best for you.
Fill 3/4 full with your filling; if you fill them too full, you will not be able to place the lids on to freeze. Fill them with what ever you would like. I just happened to go with apple and strawberry rhubarb.
Apple Filling:
4 apples, peeled cored and chopped
1/3 C brown sugar
1/4 tsp cinnamon
1/8 tsp nutmeg
pinch of cloves
1/4 tsp lemon zest
1/2 tsp lemon juice
1/2 tsp vanilla
1/4 c flour
Mix everything in a bowl, so that the apples are coated evenly.
Strawberry Rhubarb:
2 C strawberries
1 C rhubarb, chopped
1/4 C white sugar
1/4 C brown sugar
1/4 C flour
2 Tbs butter
1/4 tsp almond extract
In a sauce pot mix all ingredients. Cook over medium heat, stirring often, until berries and rhubarb become very tender. Cool before filling pies.
Roll the remainder of the dough out, to make the tops. Using the ring part of the lid, cut out tops for your pie. Make a vent, in each top piece ( I used a cute little cookie cutter, but use what ever you have on hand).
Place the dough onto the filling, so that the center is directly on the filling. The top will be big enough, so that the sides go up against the bottom crust. Using the tynes of a fork, crimp and seal the edges.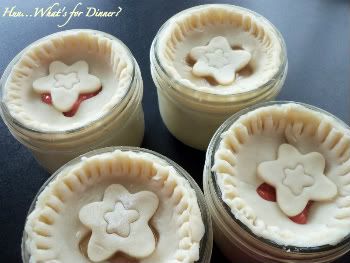 At this point, you can throw the lids on and put them in the freezer. To bake up, simply place them on a cookie sheet, in a cold oven. Turn the oven on to 375 degrees and bake for about 50-60 minutes, or until the tops are golden brown and the middles are bubbly. If you're baking them fresh and not frozen they take about 45 minutes.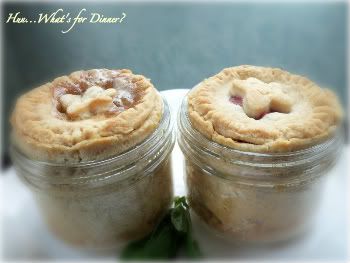 This post linked to