This was one of my entries for the Real Women of Philadelphia, contest. I've always seen popovers, or Swedish pancakes topped with fruits and creams for breakfast. I decided to take the same concept and turn it into a wonderful dinner entree. Adding chicken and vegetables, in a luxurious dill and lemon cream sauce, did just that.
The popover was nice and light. The filling was creamy and tangy. The lemon and dill just brought a whole freshness to the dish, making the filling seem less heavy, when paired with the popover. An impressive dinner can be made in just about 30 minutes. Once the popover is in the oven, the filling comes together in a snap. This would also be perfect for a Brunch or even a lunch.
Savory Popover
3 tbsp. of butter, melted
1 cup(s) of flour
1/2 tsp. of salt
6 eggs
1 cup(s) of milk
2 tbsp. of olive oil
1 small onion, chopped
2 boneless skinless chicken breast, chopped into bite size pieces
2 medium carrots, chopped
1 cup(s) of chicken stock
2 tsp. of lemon pepper
1 pinch of salt
1 cup(s) of broccoli florets
8 ounce(s) of Dill PHILADELPHIA Cream Cheese
1 roast red pepper, chopped
1/2 a lemon, squeezed
Preheat oven to 400 degrees.
Brush a deep dish pie plate with 1 tbs melted butter. Set aside. In a bowl combine flour and salt. Add in remaining 2 Tbs melted butter, eggs and milk. Whisk thoroughly, until a very smooth batter forms. Pour into prepared pie plate and bake in oven for 20 minutes. Reduce heat to 350 and bake for 5-10 minutes more; until center is set and edges are golden.
While popover is baking, prepare the filling. In a large skillet, over medium heat, add olive oil and onion; cook 2 minutes. Add in chicken and season with lemon pepper and salt. Cook until chicken is browned on all sides. Add in carrots and coat with oil. Cook 2 minutes, then add chicken stock. Cover and cook 5 minutes, until carrots begin to soften. Add in broccoli, toss to combine and cover to cook for an additional 5 minutes.
Once broccoli is tender crisp, add in Dill PHILADELPHIA Cream Cheese. Stir to combine, as the PHILADELPHIA Cream Cheese melts. Add in juice of half a lemon and roast red peppers. Cook 1 minute, to heat red peppers through.
Remove popover from oven and let sit for 5 minutes, so the center deflates and sinks in.
Pour chicken mixture into center of popover and serve.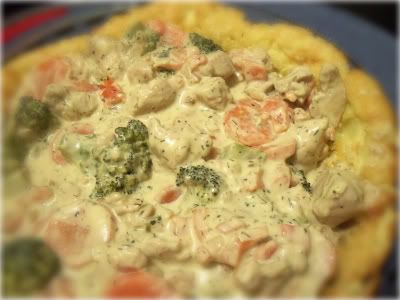 This post linked to