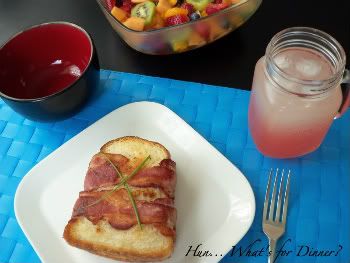 It's the weekend and you know what that means! Time to make that special breakfast for the family. This sandwich would be perfect for breakfast, lunch and even dinner; which was the case, when the kids were away. Having to cook for one can get a bit boring. I mean, it's a bit depressing to eat alone, isn't it. Well, when the kids were away, a few weeks back, I took that time to get creative in the kitchen. Having seen this recipe in an issue of Rachael Ray's Magazine, I knew it would be the perfect one person meal.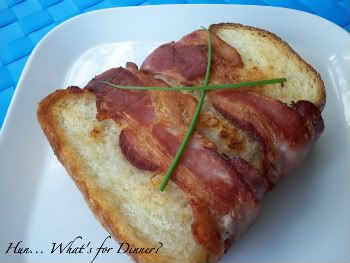 I was super intrigued by the wrapping of the bacon, around the sandwich. Could it really be done? Yes it can. Being a bacon fan, I used twice the amount of bacon. If you're going to wrap something in bacon, then wrap it in BACON, LOL. I also jazzed up my eggs a bit with some fresh chives and topped them with some Jack cheese. The sandwich was a combination of salty, crunchy outside and a soft savory inside. Pretty darn tasty. I think I may toast the inside of the bread, next time, since I found it did get a tad soggy. When Hubby found out I made these without him, he pouted a while. Until I promised to make them again, for him too, LOL.
Bacon Wrapped Egg Sandwich
Courtesy of Everyday with Rachael Ray June/July 2011
printable version
2 eggs
1 tsp. butter
2 slices sandwich bread
1 slice bacon
Softly scramble eggs in butter. Sandwich between bread; wrap with bacon. Cook in skillet over medium on both sides until golden.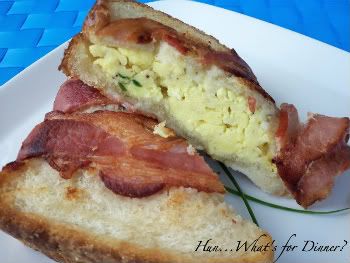 This post linked to