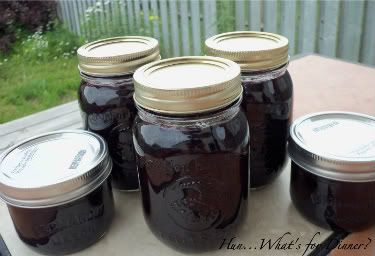 Since I came home from my parent's house with a ton of rhubarb, I decided to make some jam. My first intention was to simply make rhubarb jam, but I wasn't able to find I recipe I liked. Then, I stumbled upon this recipe and thought the combination of sweet blueberries and tart rhubarb would be perfect. I love that this jam does not need to be processed. I don't have the proper equipment to process canning, so it intimidates me a little. I love these recipes where you simply pour the product into a hot sterilized jar, place a lid on and you are done. I just love hearing the pop of the lids sealing themselves!
To try this jam, I decided to use it to top some pancakes. Jam/jelly on pancakes is one of the family's favorite ways to top pancakes. Let me tell you, this jam did not disappoint. It was nice and sweet, with a slight tart lemon undertone. The rhubarb melted into the jam and you are left with an abundance of plump blueberries. This jam would be great on biscuits, scones, bagels; just about anything, LOL.
Blueberry-Rhubarb Jam
Adapted from the Rhubarb Compendium
printable version
8 c Blueberries
4 c Rhubarb, chopped in 1 inch pieces
1 ts Lemon rind, grated
2 tb Lemon juice
1 c Water
4 c Granulated sugar
In a large heavy saucepan, combine blueberries, rhubarb, lemon rind and juice and water. Bring to a boil, stirring frequently, reduce heat and simmer, very gently, for 10 minutes. Stir in sugar; increase heat to high and boil vigorously until jam reaches setting point. (218 - 220F or 103 - 104C), 10 to 15 minutes, stirring frequently. Remove from heat, skim off foam and stir for 3 - 5 minutes to suspend fruit evenly throughout jam. Fill sterilized jars and seal. Makes about 4 pint jars or 8 - half pint jars.
This post linked to