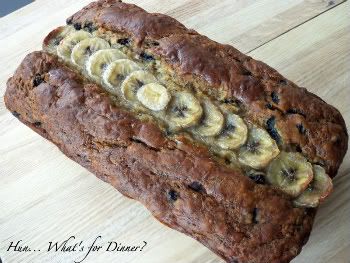 Ever grab a yogurt, out of the fridge, only to find the best before date was 2 days ago? That's what happened to me, last weekend. I still had 3 uneaten yogurts, that were past date. Since they were only 2 days past date, I decided to use them in some baking. Like Hubby says " it's a suggested date, it doesn't mean it goes bad, exactly on that date". Now for yogurts, I don't mind using them in baking, if they are only a few days past date; more than that I toss. Why take the chance?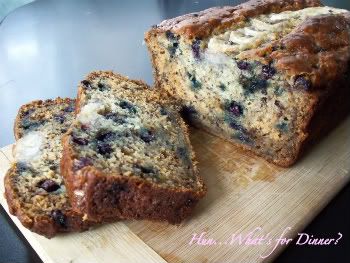 Since my freezer is getting pretty full of bananas, I decided a banana bread would be a great way to use up the yogurts. By adding yogurt to the batter, you can reduce the amount of fat/oil, you use. It's a nice flavorful way to cut fat and still get a nice moist banana bread. The results were great! The bread was tender and had a slight tang, from the yogurt. Nutmeg adds a nice warm taste to this beautiful dessert. Nothing beats blueberry banana bread in my book..... unless it's chocolate banana bread, LOL.
Blueberry Yogurt Banana Loaf
printable version
2 or 3 very ripe bananas, mashed (about 1 cup)
1/4 cup honey
1 1/2 teaspoons vanilla
1/4 cup granulated sugar
1 cup blueberry yogurt
2 tablespoons vegetable oil
1 egg
1 1/2 cups flour
2 teaspoons baking soda
1/2 teaspoon salt
Freshly grated nutmeg, to taste
1 C fresh blueberries (frozen are fine, but do not thaw)
1 ripe banana, sliced, to bake on top of bread as a garnish
Preheat oven to 350 degrees F. Lightly grease a 4-inch X 8-inch loaf pan. Line the bottom with parchment paper.
In a large bowl, mash bananas. Add the honey, vanilla, sugar, yogurt, egg and oil. Mix to combine. Sift flour, baking soda, salt and nutmeg into another bowl. Gently fold the dry ingredients into the banana mixture until just combined.Fold in blueberries.
Pour batter into prepared loaf pan. Line banana slices on top of the batter (overlapping). Bake 45 to 60 minutes, until golden and tester comes out clean. Let cool in the pan for 30 minutes. Flip onto a wire rack and cool completely.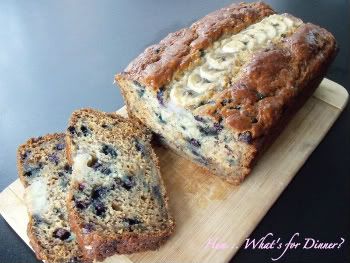 This post linked
Friday Favorites
Sweets for a Saturday
Recipe Swap Sunday