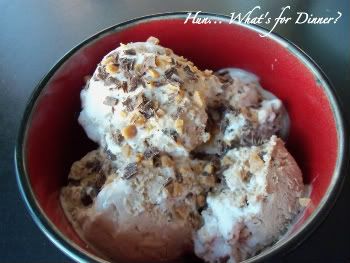 Many, many years ago, my parents bought me an ice cream machine, for my birthday. I think I've used it a total of 5 times, since then. Now that I've found a passion for cooking and creating, I decided to try my hand at home made ice cream. And, I am so glad I did. Not only can I make flavor combinations that I love, I can also ensure that the best ingredients are used and that this is real ice cream. It can't get any better than that!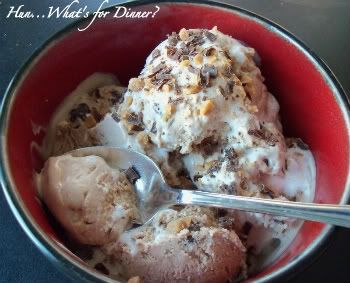 When deciding the flavor I wanted to make, I thought of everything I love. Rocky Road brownies came to mind, so I went with a chocolate ice cream, with chocolate chips, toffee bits and marshmallow cream. HEAVEN!! The ice cream was wonderfully creamy, with crunchy bits of chocolate and toffee and sweet ribbons of marshmallow running through it. The kids totally went crazy for this and have been asking to help make another batch of it soon. This is truly a decadent summer treat!
Double Chocolate Toffee Marshmallow Ice Cream
printable version
1 cups sugar
2 1/4 teaspoons cornstarch
1/8 teaspoon salt
2 cups half and half
2 ounces 70% cocoa chocolate, melted
2 large eggs, beaten
2 cups heavy cream
1 cup marshmallow creme
1 C mini semisweet chocolate chips
1/2 C toffee bits
In a saucepan, combine sugar, cornstarch and salt; gradually add half and half. Cook over medium heat, stirring constantly, until thickened -about 2 minutes. Remove from heat and stir in the melted chocolate. Blend a small amount of the hot mixture into beaten eggs; return all to pan. Cook 1 minute on medium heat; do not boil. Remove from heat and cool. Add cream; chill thoroughly. Churn freeze until the mixture thickens, adding the chocolate chips and toffee bits during the last 5 minutes of churning. Fold in marshmallow creme at last moment before freezing. Freeze for 2 hrs, before serving. Top with shaved chocolate and toffee bits.
This post linked to
Full Plate Thursday
Turning the Table Thursday
Fat Camp Friday
Foodie Friday