If the weather in your neck of the woods is anything like it is here, you definitely crave something delicious to cool you down and give you a little pick me up, during the day. I was super excited when Jeanine, from
Baking Beauties
, submitted this recipe to the Real Women of Philadelphia. In Canada, and some of the more Northern States such as NY and PA, we have a huge coffee chain called Tim Horton's. They sell coffee, donuts, bagels, sandwiches...... pretty much anything you'd find in a coffee shop. One of their specialty coffees is called the Ice Cappuccino Supreme. A frosty, slushy, creamy iced coffee, topped with whipped cream and chocolate or caramel drizzle.
Now I am not a coffee drinker. I've never been able to find a sugar/cream ratio that I like. But, these Ice Caps are a different story. They are amazing, but pricey. So, when I saw Jeanine make these Frosty Philly Mochas, I was super excited. Could I really make my own Ice Caps at home??? You betcha!! These are crazy good. The cream cheese makes them so creamy, without all the fat that cream would give. Using milk instead of cream and adding the Philly, lowers the calories, while still making this creamy and indulgent. The idea of freezing leftover coffee was pure genius and it makes these iced coffees better than you could imagine.
Frosty Philly Mocha
Submitted by
Jeanine Friesen
Instead of having a coffee with your dessert, why not make the coffee your dessert. These frozen, creamy coffees are the perfect way to end a summer meal.
2 cup(s) of frozen coffee cubes
3 tbsp. of chocolate sauce
1/3 cup(s) of milk
2 ounce(s) of spreadable PHILADELPHIA cream cheese, softened
2 ounce(s) of coffee liqueur
1/2 cup(s) of whipped cream
2 tbsp. of chocolate or caramel sauce, for garnish
Place the frozen coffee cubes, 3 Tbsp chocolate sauce, milk, PHILADELPHIA cream cheese and coffee liqueur in a blender. Blend until smooth and creamy (about 3 minutes).
Divide mixture between 2 tall cups and top with whipped cream and chocolate or caramel sauce. Sit back, relax, and enjoy immediately.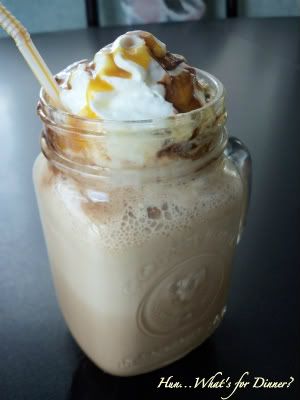 This post linked to
Full Plate Thursday
Turning the Tables Thursday
Foodie Friday
Fat Camp Friday