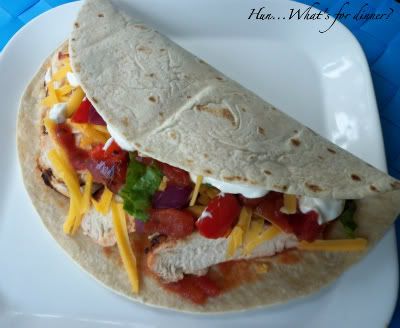 I've been really enjoying the kids being away, visiting my parents. Not that I don't miss them, I just think I need a mental break from them, LOL. Meal times are so much easier, without the "I don't like this", " you need to take one bite, before you can decide if you don't like it", "eat 4 more bites and you can be done". These phrases seem to be mandatory with my daughter and dinner time lately. So, I've really enjoyed making foods that I want to eat, without the fear of them not being kid friendly enough, and without the complaints and comments.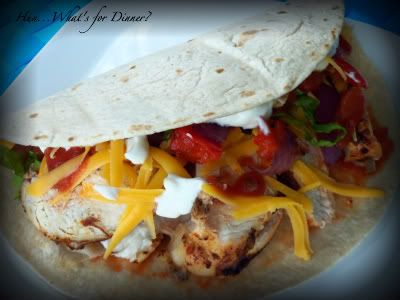 These tacos were just what I had been craving, for the past few days. With the warm weather, I've been grilling quite a bit, so I knew grilled chicken tacos would be tasty. I highly recommend the indirect heat cooking method. The results are always so moist and delicious; and if you start with a completely hot grill, you will still get those beautiful grill marks, without drying out the meat. The grilled red onion and red pepper, added a nice hint of sweetness to the spicy tacos.
Grilled Chicken Tacos
printable version
4 boneless skinless chicken breasts
1/4 C lime juice
1 tsp lime zest
2 Tbs canola oil
2 cloves garlic minced
1 tsp chili powder
1/2 tsp ground cumin
few shakes of hot sauce (as desired)
1 small red onion, cut into 8 wedges
1/2 a red pepper, cut into 1 inch pieces
1 Tbs olive oil
salt and pepper
Shredded Cheddar cheese
Salsa
Sour cream
Shredded lettuce
8 whole grain tortillas
Place chicken in a large zip top bag. In a small bowl combine lime juice and zest, garlic, 2 tbs canola oil, cumin, chili powder and hot sauce. Pour over chicken, in bag, seal it up and squish the marinade around, to coat the chicken. Place into a large bowl and refrigerate 2 hrs. Place onion and red pepper into a bowl and drizzle with olive oil and season with salt and pepper. Thread pieces alternately onto skewers (if using wood skewers, soak in water 30 mins before grilling).
Preheat grill, over high heat, for 5 minutes. Place chicken on one side of the grill, extinguishing that side. Cook covered for 15 minutes, flip chicken and continue cooking for 10 minutes more (until internal temperature reaches 165 degrees). Remove from grill, and let rest 5 minutes, before slicing. Slice chicken breasts into thin slices.
While chicken rests, grill veggies over medium heat, until they begin to char slightly around the edges and soften nicely. Remove from skewers and roughly chop.
To assemble the tacos, take a few slices of chicken and place on 1 tortilla. Top as desired with cheese, salsa, grilled vegetables, lettuce and sour cream.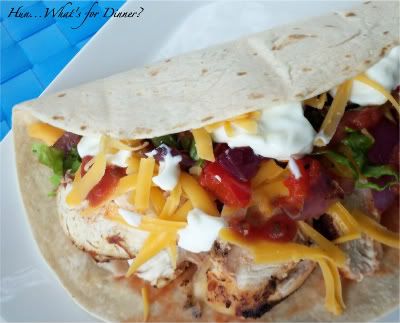 This post linked to