Happy Monday!
The Real Women of Philadelphia Gala was so much fun! Not only did I get to meet so many of the terrific ladies I befriended on the website, I got to meet Brenda from
Brenda's Canadian Kitchen
. She is such an awesome person, so funny and tons of fun. We had a blast and lucked out by being placed at the same table for dinner. She was such a good sport when I refused to let her eat, until I had taken a picture of her plate; since I had already taken a bite out of my appetizer, LOL. Hopefully we will be able to make plans in the near future, to get together in the kitchen!
I also met Anna Olson and received an amazing surprise. As we sat down to the most delicious 5 course meal, Miss Anna Olson took the stage to announce the Philly Spirit Awards. There were 3 additional awards, which would be awarded to contestants from the website. Production Queen, for the woman who submitted the most videos. The Socialite, for the woman who was always there to lend a hand, support and cheer on fellow contestants. And, the Rising Star, for the woman who had shown the most growth, throughout the competition.
As I was enjoying a tasty salad and feeling so happy that the right women were receiving awards, my name was announced as the Rising Star. I was shocked and quickly stood to acknowledge the award. As I sat back down and accepted congratulations for the award, this wonderful video montage of the first season of RWOP (above) played on several screens throughout the room. Already emotional for being acknowledged, this video made the tears flow. As winner of the Rising Star Award, I will be receiving a $500 prize pack from Kraft Canada and Anna Olson. Thank you to Kraft Canada, Philadelphia Cream Cheese Canada, Eqal and Ann Olson, for such a great honor!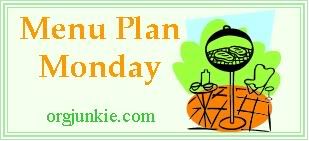 So, now that the excitement has ended, it is time to resume everyday life. The kids are coming home on Tuesday and I am excited to see theme again. I was starting to get a little bored home alone, LOL. Here is my plan for the week
Ole Burgers (new recipe) with pineapple salsa
Sticky Glazed Grilled Chicken with cucumber salads (new recipes)
Grilled pork chops with grilled purple sweet potatoes
Fish and chips with coleslaw
Grilled chicken breasts with foil packet potatoes and broccoli
Grilled vegetable and chickpea ratatouille with naan bread
Head on over to
OrgJunkie.com
, for tons of other great meal plans! Have a great week, everybody!!