Happy Monday!
Boy what a week we've had! Last week was spent trying to find creative ways to beat the heat and to find things to do inside, where it was nice and cool. We hit record breaking temperatures, of 52 degrees Celsius (125 degrees F) with the nasty humidity. Our poor air conditioning has been working over time. One highlight of the week was the newspaper article, for which I had been interviewed, was in Thursday's paper. The reporter did such a great job! It feels surreal reading about myself, in the paper and on line. Click
HERE
to check it out.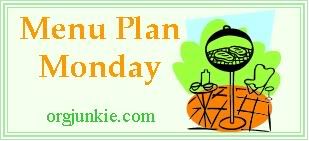 This week should be quiet. Which is great, since it will give me time to test some sandwiches, for Black & Decker's Ultimate Sandwich Contest. Look for my entry post soon!!Hubby is off Tuesday and Thursday, but we haven't made any plans. Unless something comes up, we will just enjoy spending time with the kids, out back in the kiddie pool. I hope to convince Hubby to go to the drive in, Thursday night, to see Harry Potter and the Deathly Hallows II. I am feeling uninspired with this heat, so hopefully trying out some new recipes will help get me back in the swing of things. Here's the plan for the week.
Sausage and pepper kabobs(new recipe), on rolls and a salad
Spaghetti and meatballs (crock pot) with grilled zucchini/yellow squash
Fancy Fish Burgers (new recipe) with homemade slaw
Pierogies with a salad and melon slices
Chicken Club Sliders (new recipe) with potato salad
Burgers, dogs and corn on the cob, grilled pineapple for dessert
leftovers
Don't forget to drop by
Orgjunkie.com
, to check out tons of other great meal plans for this week!