Happy 4th of July, to all my American readers!!! May your day be full of sun, fun, friends and family!!
I'm felling a little odd this week. The kids are visiting my parents for a week or so, and I am feeling a little lost. It's so funny that I was praying for a sanity break, time to myself alone; and now that they are gone, I feel lost. I'm sure they are enjoying themselves though and I am taking this kid free time to do some deep cleaning around the house. I wonder if they'll notice any missing toys??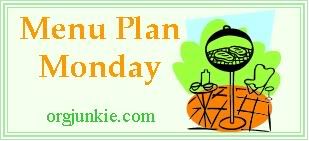 So, since we are childless this week, the menu will consist of all new dishes, that they probably would not be too fond of, LOL. Since I will be spending the night in Toronto on Wed, and attending the Real Women of Philadelphia award dinner, I have only planned for 6 nights of meals. The men (Hubby and my nephew) will be on their own for Wednesday night!
Bacon wrapped eggs sandwiches (new recipe) with fresh fruit salad
Shrimp Alio E Olio (new recipe) with bread sticks
Super Burgers (new recipe) with Pasta Salad
Grilled chicken tacos (new recipe)
Honey-Molasses Chicken Drumsticks (new recipe) with potato skins and a salad
RWOP Award Dinner!!
Leftovers
Head over to
OrgJunkie.com
, for more great meal plans!!