We had a great Canada Day, this year. Since Hubby was going to be off, we packed up late Thursday afternoon and headed 4 hrs North, to my parent's house. The kids were super excited and even more excited to learn they would be staying with Memere and Pepere, for a week or so. I have such great memories of staying with my god parents during the summer, when I was growing up. I hope the kids remember these fun times with my parents. We had fun going 4 wheeling, having water fights and just enjoying being together. Of course we had steaks, potatoes and veggies on the grill, with some red and white icecream to finish the meal. Perfect Canada Day, in my books!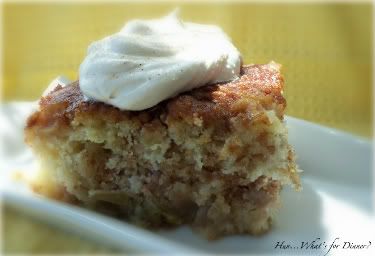 My parents are lucky to have rhubarb growing in their back yard. I absolutely loved it as a child. Snacking on the sour rhubarb and dipping it into a cup of sugar. I let Mr.B try it and he thought it was way too sour. Surprisingly Queenie loved it and ate a whole piece without any sugar. while we were there, I remembered a cake recipe that my Mom had once made, using rhubarb, so I quickly pulled out all her cookbooks and searched for it. Luckily I found it and decided to make it, last night, since I was home alone. I love going into the kitchen, when I'm home alone, it's a great way to pass the time and it relaxes me, without me getting bored, LOL.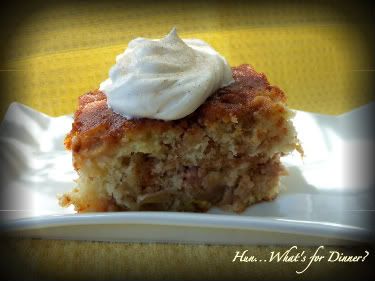 This cake is so simple to make and tastes great. The bitterness of the rhubarb is well balanced with the brown sugar and cinnamon. It's a nice and fluffy cake and pairs well with whipped cream. I convinced my parents to dig up a rhubarb root for me, and I planted a small patch of rhubarb in our back yard. I'm excited to be able to have this ingredient on hand, next summer, to get creative with.
Rhubarb Cake
Home Cooking in Verner Cookbook
printable version
1/2 C margarine
1 C sugar
2 eggs
2 C flour
1 1/2 tsp baking powder
1 tsp baking soda
1 C sour millk (1 TBS vinegar with milk)
3 C rhubarb, chopped
1/2 C brown sugar
1 tsp cinnamon
Preheat oven to 350 degrees.
In a glass measuring cup add one Tbs vinegar or lemon juice. Fill remainder with milk, to equal one cup. Set aside. Cream margarine and sugar until fluffy. Add in eggs and mix well. Combine the flour with the baking powder and baking soda. Add the flour mixture to the to the margarine mixture and add sour milk. Mix until well combined and add in rhubarb.
Pour cake batter into a greased 9X13 cake pan. Mix brown sugar and cinnamon in a small bowl. Sprinkle evenly over top of cake batter and using a knife, swirl it into the batter. Bake for 45 minutes, until a toothpick inserted comes out clean.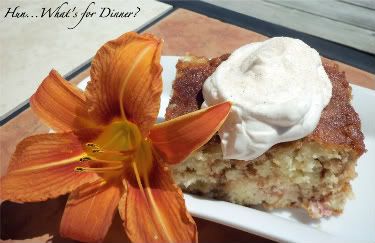 This post linked to