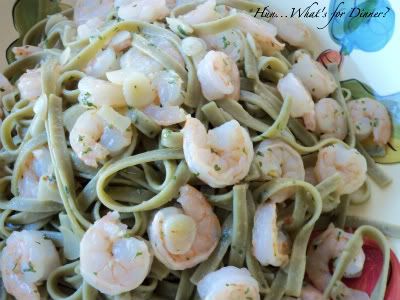 Aglio e Olio means Garlic and Oil (one of the simplest and most popular pasta dressings) in Italian.
Usually served with spaghetti, the sauce is made by lightly sauteeing minced or pressed garlic in olive oil, sometimes with the addition of dried red chilli flakes or chopped fresh chili peppers ( peperoncini). Finely chopped parsley can be added as a garnish, along with pecorino or parmesan cheese.
Sometimes you need a dish that will wow you, but that you can make in a snap. This is such a dish! I found the recipe in one of my Mom's Family Circle magazines. (We both have subscriptions to different magazines, and exchange the ones we've read, with each other.) I mostly head right for the food section and love to see what new ideas are floating around in them. This was in with 3 other shrimp recipes, called quick fixes for shrimp. It caught my attention because we always have shrimp in the house.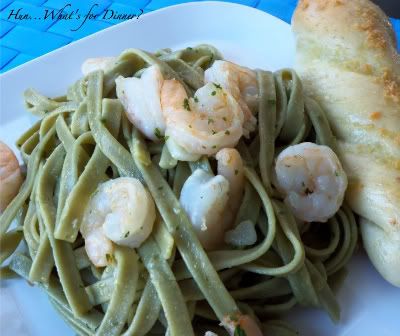 This recipe really wowed me. I never thought that something with so few ingredients, could taste this amazing. You had the garlic, that sweetend slightly as it sauteed. Garlic and shrimp are phenomenal together, but then add in that slight bite of heat and the salty pasta. Perfect score!! The only change I made was use spinach Fettuccine.
Shrimp Aglio E Olio
Adapted from Family Circle Magazine
printable version
2 Tbs olive oil
6 cloved garlic, thinly sliced
1 lb large shrimp, shelled and deveined
1/4 tsp salt
1/4 tsp red pepper flakes
3 Tbs chopped parsley
1/2 lb linguine
1/4 C cooking liquid
Cook pasta in a large pot of salted boiling water, until al dente, reserving 1/4 C cooking liquid. In a large skillet heat oilive oil over medium heat. Add garlic and cook 30 minutes. Stir in shrimp and cook 4 minutes. Season with salt and red pepper flakes. Add the cooked linguine, pasta water and parsley. Toss to coat.
Serves 4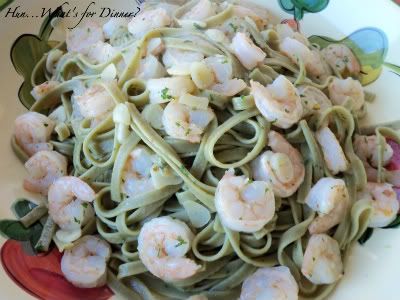 This post linked to
Hearth and Soul
Tasty Tuesday
Delcious Dishes