I seem to have a love hate relationship with Summer. I love the warm weather, going to the beach, camping, all the fresh fruits and veggies; but I am always worried about getting bored with summer foods. Grilling burgers, hot dogs, chicken; I love it, but don't want to get bored. That's why I get so excited about new BBQ recipes. I can still beat the heat and use the grill, without eating the same thing over and over again. And when a recipe includes a side, well that's a sure home run!
What attracted me to this recipe was the use of ingredients, that I always have in my pantry. The original recipe called for chicken thighs, but all I had was legs with backs attached. They grilled up wonderfully. I marinated the legs for 2 hrs, since I felt 10 minutes wouldn't impart enough flavour. While basting the chicken during the last part of the cooking time, I felt as though the marinade should be thicker, since it was running off the chicken. However, the results were superb. The skin crisped a little and became sticky and sweetly savory. I had never made an Asian inspired cucumber salad and instantly fell in love with this one. A tart sweet dressing coated the fresh cucumber. To add an extra bite and some color, I added a few thinly sliced radishes. Both paired perfectly and made this a complete meal.
Sticky Glazed Grilled Chicken with Cucumber Salad
Adapted from Canadian Family magazine
printable recipe
1/4 cup (50 mL) liquid honey
2 tbsp (25 mL) lime juice
2 tbsp (25 mL) sodium-reduced tamari soy sauce
1 tbsp (15 mL) sesame oil
2 cloves garlic, minced
2 tsp (10 mL) grated fresh ginger
8 boneless skinless chicken thighs
1 tbsp (15 mL) toasted sesame seeds
Cucumber Salad:
1/3 cup (75 mL) rice vinegar
2 tsp (10 mL) liquid honey
1 tsp (5 mL) sesame oil
1/4 tsp (1 mL) hot pepper flakes
1/4 tsp (1 mL) salt
1 English cucumber, thinly sliced diagonally
2 green onions, thinly sliced
Preparation:
In large bowl, combine honey, lime juice, tamari sauce, sesame oil, garlic and ginger; remove 3 tbsp and set aside. Add chicken to bowl, turning to coat; marinate for 10 minutes.
Cucumber Salad:
Meanwhile, in large bowl, whisk together vinegar, honey, sesame oil, hot pepper flakes and salt. Add cucumber and mix until coated; set aside in refrigerator.
Place chicken on greased grill over medium heat; close lid and grill, turning once and brushing with reserved marinade in final 2 minutes, until juices run clear when chicken is pierced, about 10 minutes.
Stir green onions into salad. Sprinkle sesame seeds over salad and chicken.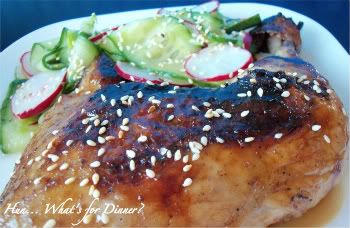 This post linked to
Make a Food-"e"-Friend Monday
Delicious Dishes
Hearth and Soul
Tasty Tuesday
These Chicks Cooked
What's Cooking Wednesday