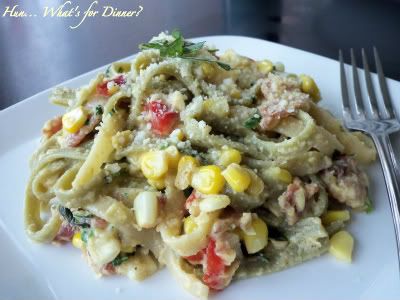 I first saw this recipe on my friend Brenda's blog,
Brenda's Canadian Kitchen
. It sounded very familiar and asked her if it was a Rachael Ray recipe, from her Look & Cook cookbook. Brenda and I playfully refer to that cookbook as "our" cookbook, since she convinced me to get it and we both love it. I knew this recipe would be a huge hit in our house, since we are crazy for corn.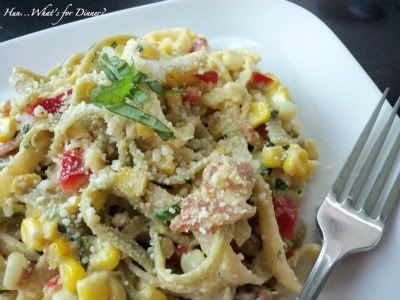 This pasta was wonderful. It was sweet and savory, with a hint of smokiness and heat. Perfect combination in my book. I used fresh corn, off the cob and loved how it was used to make the cream sauce. The dish tasted so fresh, using wonderful fresh ingredients. I love to cook with the freshest ingredients in the summer! I used half regular Fettuccine and half spinach Fettuccine, to add some colour.
Summer Corn Fettuccine
Adapted from Rachael Ray Look & Cook
printable version
salt
1 pound fettuccine
extra-virgin olive oil, for drizzling
6 slices smoky bacon, chopped
6 ears corn on the cob, shucked
3 shallots, finely chopped
1 small red bell pepper, seeded and chopped
black pepper
1 cup half-and-half or cream
2 T fresh thyme leaves
1/2 cup chicken stock or dry white wine
a few dashes of hot sauce or a pinch or two of cayenne pepper
a couple handfuls of chopped fresh flat-leaf parsley
1 cup grated Parmigiano-Reggiano cheese
1/2 cup chopped fresh sweet basil leaves or 1/4 cup chopped fresh tarragon leaves
Heat a large pot of water to boil for the pasta. Salt the water and cook the pasta to al dente. Meanwhile, heat a large skillet with a drizzle of olive oil over medium to medium-high heat. Add the bacon to the pan and cook for a few minutes to crisp the bacon and render its fat. Place a small bowl inverted in a large bowl, steady the corn cobs on the smaller bowl, and scrape the kernels off the ears. Add three quarters of the kernels and the liquids to the bacon. Add the shallots and bell pepper to the corn mixture and season liberally with salt and pepper. Cook until tender, 5-6 minutes.
Add the remaining corn to the food processor and puree with the cream.
Stir in the thyme and the stock or wine into the corn mixture in the skillet, reduce for a minute, then stir in the corn-cream mixture. Reduce the heat to a simmer. Cook for 3 to 4 minutes, stirring frequently, to thicken. Add the hot sauce or cayenne pepper and adjust the salt and pepper.
Drain the pasta, then toss with the sauce, parsley, and a couple handfuls of cheese, about 1/2 cup. Top with basil or tarragon and pass the remaining cheese at the table.
Serves 4 to 6.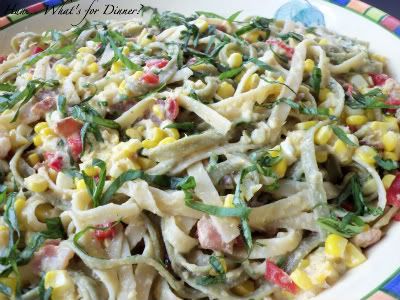 This post linked to