I am super excited today. Tonight I will be attending the Real Women of Philadelphia awards dinner. Even though I did not make the finals, I wanted to go support some of my new friends that did and meet some of the other wonderful contestants that I have become so close with. What makes tonight even more special is that I will be meeting two fellow bloggers, whom I just adore!
Lyndsay
aka
the Kitchen Witch
won a spot as a finalist in the entree category. I am so excited to meet her and all my fingers are crossed, so that she wins! Then there is my friend and Toronto neighbour
Brenda
, from
Brenda's Canadian Kitchen
. I stumbled upon her blog about a year ago and we've been blogging buddies since then. We also both take part in the Life Made Delicious program, so we are sort of partners in crime, LOL. I'm excited to meet Brenda, who was given a ticket, for announcing the contest and holding a giveaway on her blog.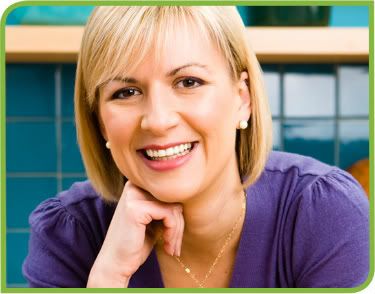 Since the even will be hosted by Canadian Chef Anna Olson, I decided to make one of her recipes, to celebrate (hopefully) meeting her and the rest of my Philly sisters. This recipe doesn't include Philadelphia Cream Cheese, since it is from Anna's Food Network Canada show,
Fresh with Anna Olson
. I just love how personable she is on her show and she really was a lovely and fun host over at the RWOP site.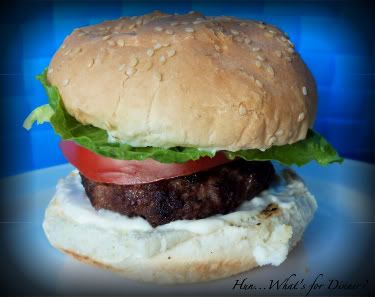 Now some of you are probably thinking; I thought she said she doesn't like burgers. Well, I don't, or shall I say, I didn't. Trying all these new burger recipes is slowly converting me into a burger fan. I think I need some extra flavor in my burger, to enjoy it. Which is exactly what was in these burgers. They were so full of flavor, due to the onion, garlic, oregano, sundried tomato and smoky cheese. The combination of ingredients was perfect. You had savory beef with bits of sweetness and a smoky cheesy center. Phenomenal! Even Hubby enjoyed them, which was proven true when he had a 3rd burger later on last night, LOL. The only change I made to the recipe is use a combination of smoked Cheddar and smoked Mozzarella. YUM!!
Super Burgers
Courtesy of Anna Olson
printable version
2
pounds
lean ground beef
1
tablespoon
chopped fresh oregano
2
tablespoons
finely chopped sundried tomato
2
cups
grated smoked cheddar
Blend all ingredients together, except cheddar. Divide mixture into 8 and shape into balls. Press a finger into a ball and press ¼ cup of cheddar into hole. Close opening (so cheese is in the centre) and flatten into a patty. Chill until ready to cook.
Grill or pan-fry burgers until cooked through, about 5 minutes on each side. Serve burgers on egg buns and dress as desired.
This post linked to
What's Cooking Wednesday
Made it on Monday
Friday Favorites
Fun with Food Friday
Fat Camp Friday