I'm always looking for side dishes to go with Asian dishes. Recently I made some fish burgers and wanted something with similar flavors, for our side dish. I thought sweet peanut butter would pair nicely with cabbage, so I went into the kitchen to work on the dressing for a great slaw. After tweaking a bit here, adding a bit there, I think I came up with a pretty darn good Asian Slaw.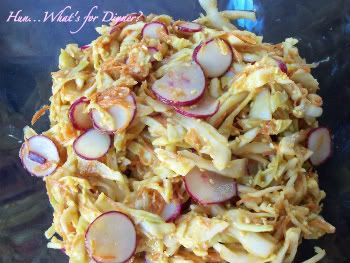 The sweet and sour flavors of the dressing go well with the pungent cabbage and spicy radishes. I love using radishes in Asian dishes, since they add spiciness, but they're flavor is very tame. This was sweet, savory, spicy and tart all in one. Perfect for any Asian inspired meal. If you don't have seasoned rice vinegar, just add a few tsp of sugar to the dressing. Don't be afraid to tweak it to your own taste, that's all part of being in the kitchen!
Asian Slaw
printable version
2 Tbsp creamy peanut butter
1/4 C vegetable oil
1/2-1 teaspoon toasted (dark) sesame oil
4 Tbsp seasoned rice vinegar
4 cups thinly sliced cabbage (Napa, green, purple, or a combination)
1/2 cup grated carrots
1/3 C thinly sliced radish
1/4 cup toasted, sesame seeds
In a small bowl, whisk together peanut butter, vegetable oil, sesame oil and rice vinegar; until well combined.
Mix the cabbage, carrots and radishes. Toss with dressing and most of the toasted sesame seeds.
Refrigerate for 30 minutes, before serving; to let the flavors mingle.
Sprinkle with remaining sesame seeds, before serving.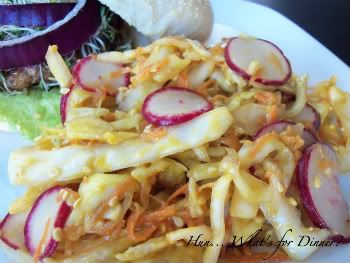 This post linked to
Hearth and Soul
Garden Variety Wednesday
Full Plate Thursday
Turning the Table Thursday
Foodie Friday