When I was chosen to participate in Black and Decker's Ultimate Sandwich Contest, I quickly started brainstorming about that perfect sandwich. I knew I wanted something fabulous, that would appeal to many people. Roast beef immediately came to mind; now I just had to figure out how to make this the best roast beef sandwich ever.
I think that the bread used for a sandwich, is as important as what goes inside it. So, I decided to turn a family favorite appetizer, into the bread for my creation. Rosemary Artisan bread paired perfectly with the salty beef and Parmesan. Roasted portobello mushrooms intensified the meaty flavor of the sandwich, while the roast red pepper added a nice sweetly savory layer. To round out the flavors, I decided to go with an avocado horseradish mayonnaise and nice green spinach. This truly is the best roast beef sandwich I've ever tasted. It can't get anymore ultimate, in my books.
As part of the contest, I was sent a Black and Decker Convection Countertop Oven. This toaster oven is perfect for making the Ultimate Sandwich. You can bake, broil, toast all with the turn of a dial. It is a quick economical way to cook up some of your favorite foods. Warm air circulates inside the oven, which results in faster and even cooking. It comes with a baking pan and removable crumb tray, for easy clean up. It's perfect for summer, since you can still roast, bake or toast, without heating up the whole house.To show the versatility of the oven, I decided to bake my rosemary bread in it, roast my mushrooms and red pepper and finally toast the sandwich, for crisp perfection. This oven would definitely make anyone's life easier! ( Available at Wal-Mart Canada, in August 2011)
Roast Beef on Rosemary Artisan Bread
1 large rosemary roll
250 g roast beef
1/2 avocado
3 Tbs mayonnaise
1 tsp HOT prepared horseradish
1 C fresh spinach leaves
4 medium portobello mushrooms
1/2 small red pepper, seeds and ribs removed
olive oil
Fresh Parmesan shavings
3 pimento stuffed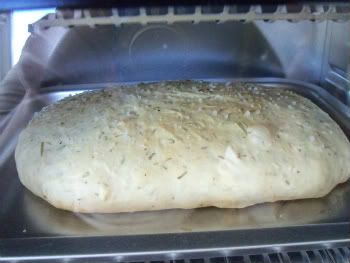 For the
Rosemary Artisan Bread
1 1/2 tsp Fleischmann's active dry yeast
1 cup water
3 tbs olive oil
1/4 tsp sugar
2 1/2 cups flour
1 1/2 tsp salt
1/4 tsp Italian Seasoning
1/4 tsp black pepper
1 tbs rosemary
Place all wet ingredients in bread machine first, followed by dry ingredients and ending with the yeast. Set to dough cycle. Form 1/3 of the dough into an oblong sandwich roll shape. Brush with olive oil, cover with a damp towel and let rise for 30 minutes.Preheat Black and Decker Counter top Convection oven to 370 degrees. Sprinkle top with sea salt and rosemary. Bake for about 20-25 minutes.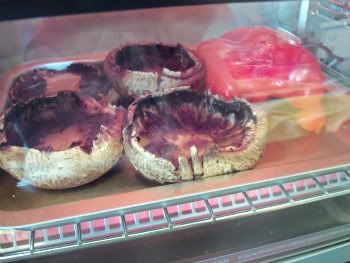 For the
Sandwich
Reduce oven heat to 350 degrees. Scrape gills from portobello mushrooms. Place on roasting plate and drizzle with olive oil. Place red pepper on roasting plate, flesh side down, along with mushrooms and drizzle with olive oil, as well. Season both with sea salt and roast for 20 minutes.Place red pepper in a bowl and cover with plastic wrap, for 5 minutes. Remove skin from red pepper and slice into thin strips. Cut portobellos in half, lengthwise. Set pepper and mushrooms aside.
In a small bowl, mash 1/2 an avocado with 1/4C of mayonnaise and 1 tsp hot horseradish. Set aside.
Slice rosemary bread in half lengthwise and drizzle with olive oil. Place in toaster oven, under the broiler, until tops are slightly browned. Slather each side of the bread with some of the avocado horseradish mayonnaise. Top the bottom slice of the bread with roast beef, then sprinkle with shaved Parmesan. Top roast beef and Parmesan with spinach leaves, followed by portobello mushroom halves and red pepper strips. Place top of bun and secure with long toothpicks. Cut into thirds and garnish each toothpick with a pimento stuffed olive.
Disclosure: I created this post as part of the Black & Decker Ultimate Sandwich contest as part of a Mom Central Canada program. I received a Convection Countertop Oven Courtesy of Applica Canada Corporation, exclusive licensee of Black & Decker Home. The opinions on this blog are my own.