With the weather getting colder, I thought I should hurry up and share all of the wonderful summer-y recipes I made this year. I found this super pasta salad recipe over at the Cooking for your Family forum, on Baby Center. As I've mentioned before, I am one of the group owners of the forum and it is a really great place to get recipes and meal ideas. One of the features of the group is a weekly ingredient thread; where many recipes using a certain recipe can be found. I think this is one of my favorite threads, since it makes it easy to find a bunch of recipes using a certain ingredient, in one place.
This pasta salad is so yummy! Creamy, tangy and salty; 3 of my favorite tastes, LOL. The addition of the smoky bacon and creamy avocado, just make this pasta salad special. The flavors all work superbly together and I like the addition of the tangy Italian dressing. Perfect as a side, or even for lunch; this pasta salad is sure to be a hit with everyone who eats it!
Chicken Club Pasta Salad
Submitted by Sandy
printable version
8 oz corkscrew or spiral pasta
1/4 cup mayonnaise
3/4 cup Italian dressing
2 cups chopped cooked rotisserie chicken
1 cup cubed Muenster or Monterey Jack cheese
12 strips crisp-cooked bacon, crumbled
1 avocado, cubed
1 cup each chopped celery and green bell pepper
8 oz cherry tomatoes, cut in half
Cook and drain the pasta according to the package directions and rinse it with cold water. In a large bowl, pour a small a mount of the Italian dressing into the mayonnaise and whisk to incorporate, then whisk in the remaining dressing. Stir in the pasta and the remaining ingredients.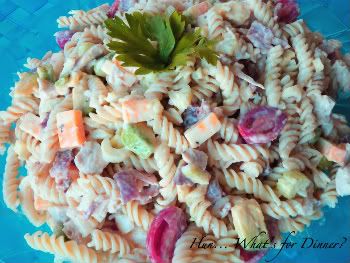 This post linked to
Make a Food-"e"-Friend Monday
Delicious Dishes
Hearth and Soul
Tasty Tuesday
These Chicks Cooked
Presto Pasta Nights- Round up