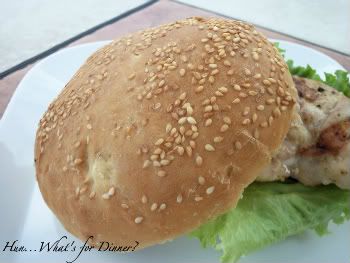 With burger season upon us, I've been making rolls/buns almost once a week. I wanted to switch it up a bit from my regular roll recipe, so decided to browse King Arthur Flour's
website
. I was looking for some sort of seasame seed bun, like you'd get in a bakery. Hard on the outside and pillowy soft on the inside. With many recipes to choose from, I went with this one. Sanwiches, grilled chicken and burgers always taste better, with a nice fresh homemade roll/bun, to serve them in!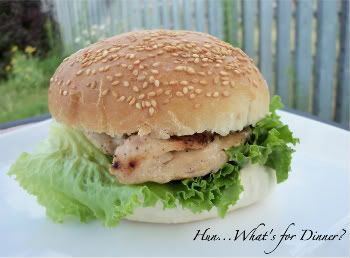 This recipe did not disappoint. I threw everything in the bread machine and let it do it's magic. Once risen, I formed the balls, dipped in water and seasame seeds; ready for rise number two. The smell of these baking was intoxicating! That make your knees weak, smell of baking bread, paired with the nuttiness of the seasame seeds toasting; it's enough to drive even the biggest carb free-er mad, LOL.
Deli Style Hard Rolls
Adapted from King Arthur Flour
printable version
2 1/4 cups King Arthur Unbleached Bread Flour
1/3 cup Hi-maize Natural Fiber
1 1/2 teaspoons instant yeast
1 tablespoon non-diastatic malt powder or sugar
1 teaspoon salt
1 large egg white
2 tablespoons unsalted butter or vegetable oil
3/4 cup lukewarm wate
2 to 3 tablespoons sesame seeds or poppy seeds, or artisan bread topping
1) To make the dough: Mix and knead the dough ingredients — by hand, mixer, or bread machine set on the dough cycle — to make a smooth dough.
2) Cover the dough and let it rise until it's noticeably puffy, about 1 hour.
3) Transfer the dough to a lightly greased work surface, and divide it into 6 pieces (about 3 1/4 ounces each). Shape into balls.
4) Dip the top half of each roll into water, then into the seeds.
5) Place the rolls into the cups of a lightly greased hamburger roll pan, or onto a lightly greased or parchment-lined baking sheet. Press gently to flatten.
6) Cover the rolls and let them rise until puffy, 30 to 40 minutes. Towards the end of the rising time, preheat the oven to 400°F.
7) Bake the rolls until they're a deep golden brown, 22 to 26 minutes. Remove them from the oven, and cool on a rack.
8) If desired, just before serving, reheat the rolls in a 375°F oven for 5 minutes or so, to crisp.
Yield: 6 hard rolls.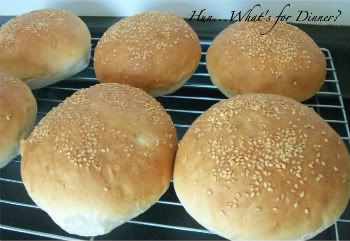 This post linked to
Make a Food-"e"-Friend
Hearth and Soul
Tasty Tuesday
Delicious Dishes
What's Cooking Wednesday