One of my favorite parts of summer, is all the yummy cold treats! Ice creams, frozen pies, novelty treats; I just love a nice cool treat to end a wonderful summer meal. I found this recipe in a recent issue of Cooking Pleasures Magazine. As a lifetime member of the Cooking Club of America, I receive this magazine through the mail. I just love to see what new and interesting recipes they'll be featuring in every issue. I've always had so much success with all the recipes I've made from this magazine, so I knew this one would be a winner.
And it was!! Super easy to assemble, these came together in a snap. However, I do have some tips to help make these successful. First, make sure you make and press the crust before taking the ice cream out of the freezer. And don't press the cereal mixture in too hard, since it'll set up too hard. Second, I would make the peanut butter filling into more of a disk shape, than a ball. In the photos accompanying the recipe, they had formed the PB center into a ball; the ball was too difficult to break and you ended up with the peanut butter only in the middle of the ice cream. And third, work fast, because the ice cream will melt quickly. The results will be creamy ice cream with a peanut butter center, on top of a chewy sweet PB flavored crust. Awesome!
Frozen Peanut Butter Cups
Adapted from Cooking Pleasured Magazine
printable version
These ice cream treats are filled with peanutty goodness, from the peanut butter-laced cereal crust to the surprise peanut butter filling and the p.b.-and-chocolate glaze.
1/2 cup plus 2 tablespoons light corn syrup, divided
1/2 cup plus 1 tablespoon creamy peanut butter, divided
3 cups corn flakes cereal
3 cups vanilla ice cream
3 tablespoons salted peanuts, chopped
1/2 teaspoon unsalted butter, melted
1/3 cup semisweet chocolate chips
1. Spray bottom of 12 muffin cups with cooking spray. Microwave 1/2 cup of the corn syrup in medium microwave-safe bowl 1 minute or until syrup is hot but not bubbling. Whisk in 1/4 cup of the peanut butter. Vigorously stir in cereal to break up flakes. With back of spoon or lightly buttered fingers, press into bottom of muffin cups.
2. Stir 1/4 cup of the peanut butter and remaining 2 tablespoons corn syrup in small bowl.
3. Spoon 2 tablespoons of the ice cream in each muffin cup, pressing down with spoon or measuring cup. Place about 1/2 tablespoon of the peanut butter mixture in center of each cup; top each with 2 tablespoons ice cream, smoothing to cover peanut butter. Sprinkle with peanuts. Place in freezer while preparing glaze.
4. Microwave butter, chocolate chips and remaining 1 tablespoon peanut butter in small microwave-safe bowl 40 to 60 seconds, stirring until melted and smooth. (If necessary, keep heating mixture in 10-second increments until smooth.) Spoon into small resealable plastic bag; snip off small corner.
5. Drizzle glaze over each peanut butter cup. Freeze 2 hours or overnight, until firm.
6. Place in refrigerator 5 minutes before serving to soften slightly. Gently run knife around edge of each cup to loosen cereal base.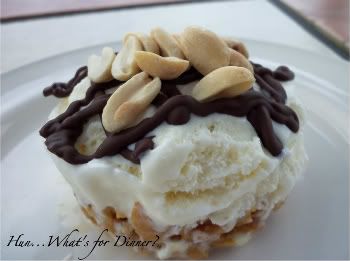 This post linked to
Make a Food-"e"-Friend Monday
Made it on Monday
Delicious Dishes
Tasty Tuesday
These Chicks Cooked