This past summer, I've really gotten into canning/preserving. I've made a few jams and of course my all time favorite
Pickled Beets
. During a recent trip to the library I notice a little booklet about jam and jellies. I picked it up and the first recipe I turned to, was this one. The thought of lemon and cranberries in a marmalade was so intriguing, that I quickly tucked the book under my arm, to take home. After reading through the book, I've bookmarked several other recipes I'd love to try. I'm not sure if I'll get to them this year; if not there is always next year. I'm hoping to assemble enough good recipes, to perhaps make some product and sell it at the Farmer's Market (someday).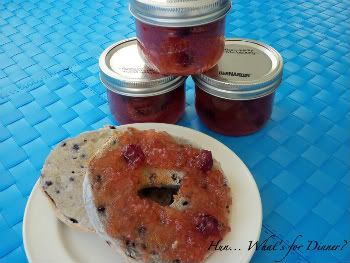 This marmalade was very easy to make. All you need is lemons, water, sugar and cranberries. Though the recipe suggested leaving the lemon slices as they were, I didn't really want to eat large pieces of lemon. So, I pulsed the lemons in my food processor, a few times. The results are a beautiful pink-ish orange colour, with bits of lemon and cranberries through out. Tart, lemony and slightly sweet; this marmalade goes well with bagels, English muffins and I'm sure could be turned into phenomenal muffins.
Lemon and Cranberry Marmalade
Jams & Preserves by Syd Pemberton
printable version
450g lemons, halved then thinly sliced (about 2 C)
boiling water
5 C sugar
1 C frozen cranberries (defrosted)
Place lemons in a large heavy bottomed stainless steel pot. and pour over enough boiling water to cover. Leave to stand over night.
Drain lemons, reserving the liquid. Remove the pips (seeds) and tie in muslin (cheese cloth). Return the lemons and pips to the preserving pan. Measure the soaking liquid and add fresh water to make about 5 cups. Place over a low heat and slowly bring to a boil. Simmer until tender (about 1 hr). Remove the muslin bag, first squeezing out any juice. Add the sugar and slowly bring to a boil, stirring occasionally until the sugar has dissolved. Cook for about 30 minutes, until setting point is reached (221-230 degrees F). Stir in the cranberries and cook over a low heat for a further 15-20 minutes. Remove from heat and pour into warm sterilized jars and seal.
This post linked to
What's Cooking Wednesday
Recipe Swap Wednesday
Full Plate Thursday
Turning the Table Thursday
Foodie Friday