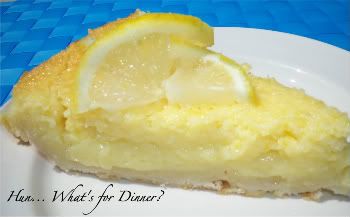 Being Canadian, I had never heard of Chess Pie, until recently. One of my girlfriends from Tennessee mentioned this kind of pie, last spring, when she baked some for a school function. I asked her about it and she sent me the recipe. Intrigued by it, i did some research and found that it was similar to pecan pie, minus nuts but with corn meal. One theory is that it was once called 'just pie', but with the British accent it sounded like Chess pie.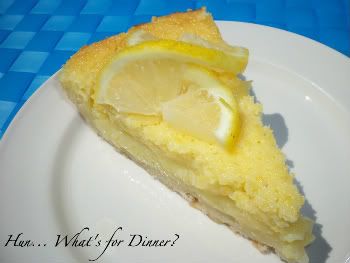 A few weeks ago, lemons were on sale. I bought 2 -3lb bags for $4. With all these lemons, I was searching for something to use them in. This lemon chess pie came up on my google search. It caught my attention, since I had never heard of a lemon version of this pie. The actual name of this pie is Bill Clinton's Chess Pie, LOL. I really don't care who's recipe it is, it's fabulous. It's like a sweeter version of lemon bars, but in a pie. Actually I thought it was a bit too sweet, so I was squeezing some fresh lemon on top of the slices I ate. Hubby loved this, since he's a total lemon fiend. This is a super easy, yet delicious summer pie.
Bill Clinton's Lemon Chess Pie
Adapted from Allrecipes
1 (9 inch) pie shell
2 cups white sugar
1/2 cup butter, softened
5 eggs, beaten
1 cup milk
1 tablespoon all-purpose flour
1 tablespoon cornmeal
1/4 cup fresh lemon juice
3 tablespoons lemon zest
Preheat oven to 350 degrees F (175 degrees C).
In a large mixing bowl, cream together sugar and butter or margarine until light and fluffy. Beat in eggs and milk. Add flour, cornmeal, lemon juice, and lemon rind. Mix until smooth. Pour mixture into pastry shell.
Bake in preheated oven for 35 to 40 minutes, until set in center.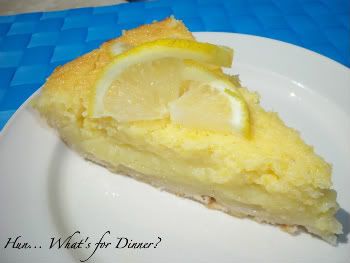 This post linked to
Bake with Bizzy
Fat Camp Friday
Friday Favorites
Fresh Food Friday
Sweets for a Saturday