Happy Monday!
Hope everyone has been having a wonderful summer so far. I know that some of you in the southern States, have returned to school, while the rest of us are anxiously awaiting for it the start. I think Mr. B has had enough summer vacation. He's been moodier lately and saying he's bored. A few more weeks and he will be starting grade 1. Secretly, I'm ready for school to start too. I've depleted my summer fun ideas and I just want to relax and enjoy the sun, which is hard to do with 2 bickering children, who claim they are bored 12 hrs a day. I'm hoping these next few weeks fly by, so we can get back into some sort of routine.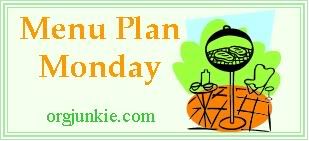 You will probably notice that this week's menu features many meatless meals. Hubby's cousin's daughter, who is 14, is staying with us this week; and she is vegetarian. I will surely enjoy having her here, to help me entertain the minions. And I will totally enjoy this meat free week! So here is our mostly meat free menu for the week
pasta primavera with salad
beach picnic- potato and pasta salads, relish tray (cucumbers, pickles, radishes, carrots), cheese and crackers, and watermelon
Grilled Portobello Mushroom burgers, beef burgers and leftover picnic salads
Bahn-Mi sliders with cucumber salad
Leftover
Head over to
OrgJunkie.com
, for more great meal plans; for the week.