Happy Monday!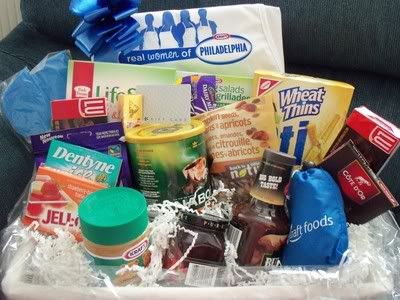 I hope everyone had a great weekend. I wanted to share the wonderful prize I finally received from Kraft and the Real Women of Philadelphia; for winning the Rising Star Award. I, along with 2 other RWOP members, was sent this wonderful gift baskets filled with Kraft products and a $500 gift card; for the Bay, Zellers or Home Outfitters. I am anxious to go to Home Outfitter, to look for a set of everyday dishes, since ours have seen better days. And neat serving dishes for my blog photos, would also be wonderful. Hubby and I have decided to save half of the gift card, to use towards the kids Christmas gifts. We always seem to be short money, that time of year, so it will help tremendously. Thanks again to Kraft Canada, Real Women of Philadelphia Canada and Eqal, for the wonderful prize!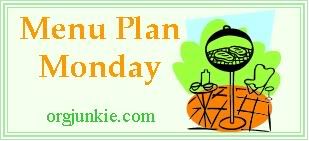 Well, our house guest has returned home, so Hubby and my nephew are anxious to have more meals containing meat. I loved having Hubby's cousin here, since she was vegetarian. I didn't miss meat the whole time she was here and enjoyed eating meat free quite a bit. If I knew I wouldn't have to make 2 different meals every night, I'd become vegetarian in a heart beat, LOL. So here is our menu for the week; I hope the boys enjoy it.
Bahn-Mi sliders (new recipe) with cucumber salad
Rosemary Vanilla Chicken (new recipe) with orzo and some sort of veg (still trying to figure this one out, LOL)
Sausage and Pepper Kabobs (new recipe) with rolls and pasta salad
Grilled steaks with bacon wrapped potatoes (new recipe) and Caprese salad
Artichoke Dip Grilled Cheese (new recipe) with bruschetta
Burgers with foil packet potatoes and vegetables
Leftovers
Make sure to drop by
http://OrgJunkie.com
, to check out other great meal plans for the week!