Happy Monday!
Boy, what a difference a week makes, in the weather. We've started wearing pants and light jackets at night. A good sign that summer is almost to an end. The good thing is, now we can sleep with the windows open and not have the air conditioning on all the time. It also means I have to find pants that fit, since my waist line seems to keep expanding.....sigh.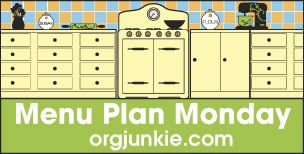 I didn't really stick to my meal plan last week. Partly because I only took the time to do half of my grocery shopping, so meals centered around ingredients I've had on hand. The week seems like it was super busy, but at the same time, I feel like I didn't accomplish much, LOL. So, I will be carrying over a few meals and working from the pantry as much as possible. With the exception of milk, eggs and fresh produce, I am not buying anything else from the store, until next week. Here is the plan
Sausage and pepper kabobs with rolls and pasta salad (brought over from last week)
Burgers of some sort, with oven fries and ??? (bean salad maybe)
Pork chops with bacon wrapped potatoes (new/brought over from last week) with green beans
Roast chicken with buttermilk mashed potatoes, glazed carrots and roast cauliflower
Chicken stir fry (using leftover chicken)
Chickpea Ratatouille with Naan bread
leftovers
Head on over to
OrgJunkie.com
, for more great meal plans!