Happy Monday!
I hope all of you had a great weekend. Mine was full of excitement, let me tell you. First I threw out my back was stuck laying on the bed for several minutes, before Hubby and the kids heard me crying out in agony. Thankfully Hubby had some pain medication leftover from oral surgery. Thanks to that, I was able to somewhat function on Saturday. After resting, light stretching, a hot bath and a good night sleep; I felt much better Sunday. Which was good, because I needed to help Hubby with his latest cake order. He rocked it, as usual; thanks to his trusty assistant, LOL.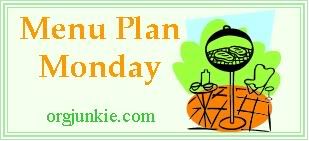 We have planned on visiting Hubby's Mom, this week, so I will only be planning for 5-6 days. I'm not sure yet if we will be spending the night in Buffalo, or not, so I'll leave night number six as take out, LOL. So, here is the plan
Homemade pizza, using leftover spaghetti sauce from Sunday, and a salad
grilled whole chicken with veggie kabobs
dinner with Mother in law
take out
Philly Jalapeno wraps, roast chicken in green Philly underwear and Cheesy Mexican Tators (RWOP Book Club dinner)
pancakes with bacon and fresh fruit
Leftovers
Head on over to
OrgJunkie.com
, for more meal plans!