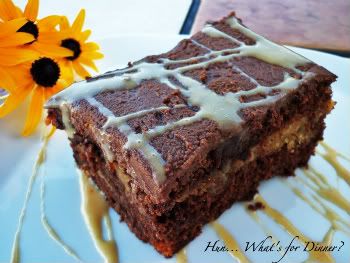 Hi, my name is Cindy and I am a dessert-a-holic! Seriously, if there isn't some sort of baked good in the house, I almost panic. Even if I don't eat the dessert (which almost never happens, LOL), I need to know that it is there, in case someone drops by. The need is reinforced by my love for baking. Getting into the kitchen, throwing a bunch of ingredients together and creating something decadent and soul satisfying. It just seems to center me and bring a happiness to my day. Not to mention, the kids love having sweet homemade treats in the house.
I've been in the chocolate and peanut butter mood lately. It all started a few weeks ago, when I found some Reese peanut butter cups, from Easter, that Hubby still hasn't eaten. The killer is, that he won't let anyone else eat them either. I've been fantasizing about these darn things for weeks now. So, I decided to try and re create the flavors, in a brownie. I thought a ribbon of peanut butter inside the brownie would be super yummy. Boy was I right! The brownies are tender and chewy, then you have a sinful ribbon of peanut butter cheesecake filling in the center. It truly can not get any better than this. I have to warn you though; these are super rich, so a small piece goes a long way.
Peanut Butter and Fudge Brownies
printable version
1 1/3 C sugar
1 C margarine, or butter, softened
4 eggs
2 tsp vanilla
1 1/2 C flour
1 tsp baking powder
1/2 tsp salt
3/4 C cocoa
1 C peanut butter chips
3/4 C smooth peanut butter
1/3 C cream cheese, softened
1/3 C sugar
3Tbs flour
1 tsp vanilla
2 eggs
Frosting and Glaze
3 Tbs butter
3 oz unsweetened chocolate
2 C powdered sugar
3/4 tsp vanilla
4-5 Tbs milk
1/3 C powdered sugar
2 Tbs peanut butter
1-2 Tbs milk
Preheat oven to 350 degrees. Grease a 13x9 inch baking pan. In a large bowl, cream the sugar and butter, until light and fluffy. Add 4 eggs, 1 at a time; beating well after each addition. Add 2 tsp vanilla and mix well. In a small bowl combine 1 1/2 C flour, cocoa, salt and baking powder; mix well. Add to wet mixture and mix until well blended. Stir in peanut butter chips and set aside.
In another bowl, beat the peanut butter and cream cheese, until well combined. Add 2 eggs, 1/3 C sugar, 3 Tbs flour and 1 tsp vanilla; mixing until well combined. Set aside.
Spread half of the brownie mixture in the bottom of prepared pan. Spread peanut butter mixture evenly, over brownie mixture. Top with remaining brownie batter and bake for 40-50 minutes. The top should spring back, when lightly touched and brownies will begin to pull away from the sides. Cool completely.
In a medium sized sauce pan, melt butter and chocolate, until smooth. Remove from heat and add in powdered sugar, vanilla and enough milk, until desired spreading consistency is reached. Frost cooled brownies.
In a small bowl, mix 1/3 C powdered sugar, 2 Tbs peanut butter and 1-2 Tbs milk; until smooth and thin enough to drizzle. Drizzle over frosting. Cut brownies into 36 bars.
This post linked to
Baking with Bizzy
Fat Camp Friday
Friday Favorites
Fresh Food Friday
Sweets for a Saturday