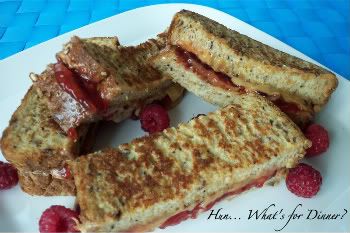 I recently took Rachael Ray's YUM-O cookbook, out of the library. With the kids gone, last week, I had plenty of time to read cookbooks. One of my favorite things to do! Since Rachael is always talking about this cookbook on her show, I decided to take a peak at it. This cookbook is suppose to be full of kid friendly healthy recipes, but I must say, there aren't many that my kids would like, LOL. Even thought these recipes are full of lean meats and veggies, many of them are spicy. My children do not go for any amount of heat in there food, so many recipes wouldn't be well received in this house. Her breakfast recipes were awesome though. Bagels, eggs, french toast. These are all things my kids would love. That's why when I decided to make this twist on french toast, the kids were super excited. It mixed two of the things my kids love most; french toast and peanut butter and jelly. How could you go wrong with this one? It was really delicious! I loved the sweetness of the peanut butter, with the savoriness of the french toast. I thought the jelly would make these sweet enough, so we skipped the maple syrup. Even without the syrup, the kids quickly gobbled these up!
Peanut Butter and Jelly French Toast Sticks
Adapted from Rachael Ray YUM-O! Cookbook
printable version
½ cup peanut butter
8 slices sandwich bread
½ cup jelly (any flavor)
5 large eggs
1/3 cup milk
2 teaspoons pure vanilla extract
4 tablespoons butter
½ cup maple syrup, warmed
Spread the peanut butter on 4 bread slices and the jelly on the other 4 slices, and combine to make 4 sammies.
In a wide, medium bowl, whisk together the eggs, milk and vanilla.
In a large nonstick skillet, heat 2 tablespoons butter over medium heat. When the butter is almost melted, dunk two of the sammies into the french toast batter and let the excess drip off. Place in the pan and cook until golden brown, 3 to 4 minutes for each side. Repeat with the remaining 2 tablespoons butter and 2 sammies. Let cool slightly and cut into sticks; serve with the warm maple syrup.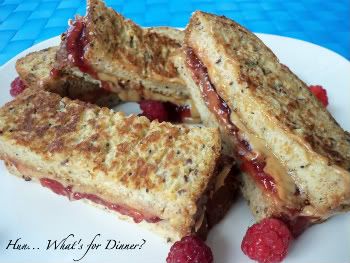 This post linked to
Friday Favorites
Fat Camp Friday
Foodie Friday
Saturdays with Rachael Ray
Sweets for a Saturday
Cookbook Sunday