While the kids were visiting my parents, earlier this month, I decided to make a special dinner for me and Hubby. One of Hubby's favorite appetizers are stuffed mushrooms. Since we had some extra Portobello mushrooms, leftover from our Ultimate sandwich, I figured stuffed mushrooms would be the perfect start to our dinner date. What I like about stuffed mushrooms is that they are so versatile. You can stuff them with just about anything; crab, cheese, vegetables. I went with one of Hubby's other favorites; sausage and peppers.
The mushrooms were wonderful. Tender, meaty, with nice spicy sausage and savory peppers. Cheese and fresh bread crumbs helped bind the wonderful filling. Hubby practically inhaled these, and mentioned 3 times that they were very good, LOL. I thought they were pretty yummy too, so made a few modifications and submitted them in the Real Women of Philly Canada, recipe contest. I guess they weren't good enough, since I was passed by, once again.... So, today I am going to share the original recipe with you!
Sausage and Pepper Stuffed Portobellos
printable version
8 medium portobello mushroom caps
4 tbsp. of olive oil, divided
4 hot Italian Sausages, casings removed
1/2 small onion, chopped
2 cloves garlic, minced
1/3 cup(s) of roasted red pepper, finely chopped
1/2 cup(s) of Sharp Cheddar, shredded
1/2 cup(s) of seasoned breadcrumbs
Preheat oven to 350 degrees.With a slightly damp cloth, wipe the mushrooms clean and gently scrape gills from inside; removing any stems. Set aside.
In a skillet,heat 2 Tbs oil over medium heat.Add onions, red pepper and garlic and cook for 3 minutes. Add sausage meat and break up with a wooden spoon. Cook with onion, pepper and garlic, until cooked through, about 7-10 minutes. Place mixture into a bowl cool slightly; 5 minutes.
While sausage cools, toast bread crumbs, with the remaining olive oil, in a hot skillet; until fragrant. Remove from heat.
Mix the Cheddar into the sausage mixture.Spoon equal amounts of sausage mixture, into each mushroom cap.Generously sprinkle with bread crumbs and place in oven for 10-15 minutes; until mushrooms are tender and Cheddar has melted.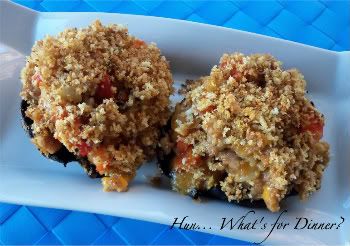 This post linked to
Made it on Monday
Full Plate Thursday
Turning the Table Thursday
Foodie Friday