***GIVEAWAY IS NOW CLOSED***
Patricia from
ButterYum
recently nominated me to complete a 7 links assignment, that has been popping up all over blogdospere. If you haven't heard of Patricia (aka ButterYum) then you are missing out. Not only doesn she post the most beautiful desserts (LOVE her cakes!), but she also shares savory recipes and little snippets of her life. The photographs on her blog are stunning and drool worthy! So drop by and say hello!
I am suppose to share 7 links to posts on my blog that best fit the criteria given, then nominate 7 additional bloggers to do the same. This should be quite interesting, since I always think other blogs are much nicer and yummier than mine, LOL. And which 7 bloggers do I choose, to pass this assignment on to. I mean, I don't want them to hate me, for bestowing this on them, LOL. So, here I go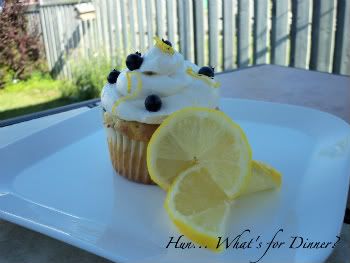 I'd have to say
Lemon-Blueberry Cupcakes
. I just love the colors on the plate, the cupcakes looks so mouth watering and I love the shot of the birdhouse in the back ground.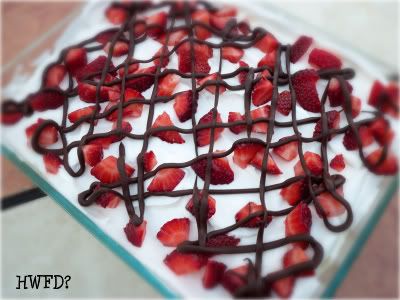 This one was tough, since I had 3 posts that were equaly popular. So I'll pick my favorite from the 3, LOL. This
Banana Split Cake
is not only stunning, but guests would never know how easy it is to make.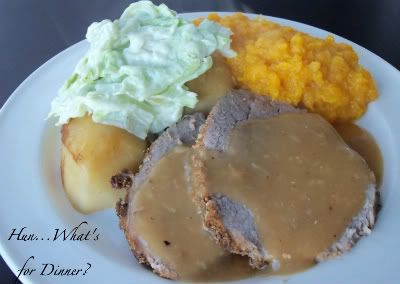 I'd have to say
Roast Beef with Horseradish Gravy
. Only because someone left a message telling me that it must taste horrible since I overcooked the roast and ruined it. I recovered nicely and replied with decorum (which is far from what I wanted to say...)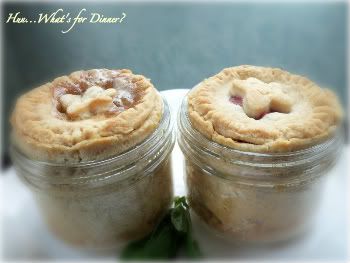 I'd have to say
Pie in a Jar
. I got to share a really beautiful and easy technique with my readers and have inspired many to make them as gifts.
Post Whos Success Most Suprised You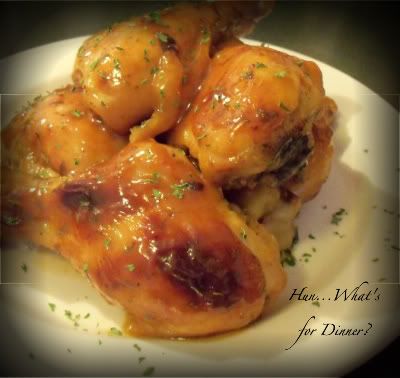 This one would be the
Baked Honey Mustard Chicken
. It's a super simple and delicious way to cook chicken, but I didn't think chicken legs would be so popular.
Post You Feel Didn't Get the Attention It Deserved
These awesome and insane
Peanut Butter and Fudge Brownies
. Just over the top YUM!
Post You Are Most Pround Of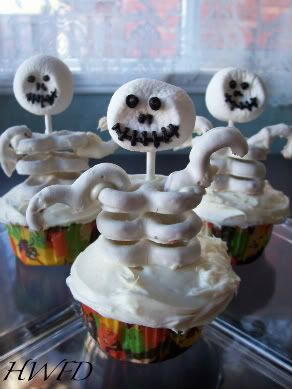 Skeleton Cupcakes
, for sure! When I set out to make these, I was certain they would be a total failure. But they are actually pretty darn cute. Plus the kids LOVE LOVE LOVED them!
Now for the 7 awesome bloggers I'd like to pass this assignment on to
Debie from
Debbie Does Dinner... Healthy and Low Calorie
Wendy from
Around my Family Table
Miz Helen from
Miz Helen's Country Cottage
Christy from
Fudge Ripple
Kim from
My Mediterranean Diet
Jeanine from
The Baking Beauties
Katie from
This Chick Cooks
~~~~~~~~~~~~~~~~~~~~~~~~~~~~~~~~~~~~~~~~~~~~~~~~~~~~~~~~~~~~~~~~~~~~~~~~
Now, onto the giveaway!!! I was recently chosen my Mom Central Canada, to be part of the VH Moon Festival Giveaway.
Moon Festival, also known as the Mid-Autumn Festival, is one of the most celebrated holidays in the Chinese calendar. Moon Festival falls on September 12th this year and on this date, families across the world will gather with brightly-lit Chinese lanterns to share delicious Chinese cuisine with one another. VH Sauces and Steamers are just what you need to get your celebration going; since they
bring variety to the dinner table and take your taste buds on an exotic flavour adventure.
But, for the nights when celebrating (between hockey and ballet) just isn't possible! VH Steamers are Asian-inspired meals that are ready in less than 5 minutes and steamed to perfection! Available in Kung Pao Chicken, Shanghai Ginger Beef, and four other delicious varieties, they're quick and tasty, perfect for lunch at the office or busy school nights. For more information about VH Sauces and Steamers; and delicious recipes to help you celebrate the Moon Festival visit their website!
Mom Central on behalf of VH would love to give one of you the chance to get in on the Moon Festival excitement by offering them a chance to win a $50 grocery card. Contest is open from September 2 to September 20, 2011 and is

open to Canadian residents only

. Readers may enter on multiple blogs, but may only win one prize.
All you need to do is leave me a comment sharing how you

introduce culture into your meals

. It's that easy!! Good Luck everyone!!
"Disclosure – I am participating in the VH Moon Festival program by Mom Central Canada on behalf of VH. I received compensation as a thank you for my participation. The opinions on this blog are my own."