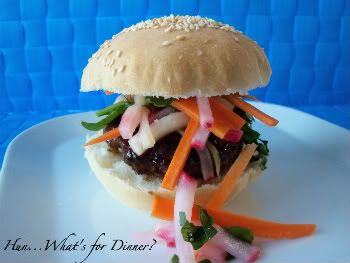 Bahn Mi is popularly known as a type of sandwich traditionally made with this type of Vietnamese baguette. There are many global and regional variations of the sandwich, but the most common version features thinly sliced pickled carrots and daikon (known as đồ chua), cucumbers, cilantro, chili peppers, pâté, mayonnaise and various meat fillings or tofu. Popular bánh mì fillings include roasted or grilled pork, steamed or roasted pork belly, Vietnamese sausage, chicken, head cheese and ham.[ wikipedia]
I had never heard of Bahn Mi until several months ago. It was popping up everywhere; in blogs, on TV, in magazines.... So, when I bought an issue of Everyday with Rachael Ray, early this summer, I noticed that she had a BBQ slider version of this new food fad. What I liked most about this recipe is that it uses many ingredients everyone would have their pantry. And I loved the idea of slathering the sliders with an Asian inspired BBQ sauce. These were really delicious! I loved the many Asian flavours that all married so well. The sweet and sour pickled vegetables that topped the salty savory patties just intensified the flavors and made everything pop. I did omit the bologna, since I could bring myself to mix it with the fresh ground pork, LOL. We also didn't top them with pea shoots, since I couldn't find any, in our markets. The kids really loved these too, so this is definitely going into my Summer meal repertoire.
BBQ Banh Mi Sliders
Adapted from Every Day from Rachael Ray Magazine
Toppings:
2 medium carrots, sliced into matchsticks

1/3-1/2 English (seedless) cucumber, sliced into matchsticks

4-5 large radishes, sliced into matchsticks

1/4 cup
sugar

1/4 cup
white wine vinegar or rice vinegar

1 scant teaspoon sea salt

A handful each
of cilantro and mint leaves

A handful of micro greens or pea shoots
For the barbecue sauce:

1/4 cup
honey

3 tablespoons soy sauce or Tamari (dark soy sauce)

1 tablespoon chili-garlic sauce or Sriracha
For the sliders:

1 1/2 pounds ground pork

1/4 pound
bologna, coarsely chopped

3 tablespoons onion,
finely grated

2 cloves garlic, finely chopped

1 1 1/2-inch piece of fresh ginger root, grated or finely chopped

A little sea salt and lots of pepper

Vegetable oil, for coating

8 French rolls or 3-inch pieces baguette, split
Pre-heat an outdoor grill or grill pan to medium-high. Combine the carrots, cucumber and radishes in a shallow dish. In a small saucepan, heat 1/2 cup water, the sugar, vinegar and salt until dissolved. Pour the hot dressing over the vegetables, then let cool until ready to serve. Combine with the cilantro, mint and micro greens (or pea shoots).
Meanwhile, combine all of the ingredients for the barbecue sauce in a small saucepan and warm up.
Place the ground pork in a large bowl. Add the bologna to a food processor bowl and pulse until very finely chopped. Mix it into the pork, along with the onion (which you can grate directly into the bowl), garlic, ginger, salt and pepper.
Form the meat mixture into eight patties and lightly coat with oil. Grill, turning once, until cooked through, 6-8 minutes, liberally brushing with the barbecue sauce during the last minute or so.
Serve the pork patties on the rolls (or baguette). Top with the drained salad mixture.
This post linked to
Cookbook Sunday
Make a Food-"e"-Friend Monday
Tasty Tuesday
Delicious Dishes
Hearth And Soul
Saturdays with Rachael Ray