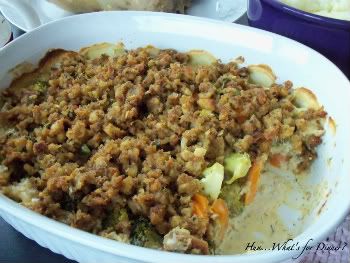 This summer, as the Real Women of Philadelphia contest came to an end, I had the opportunity to meet some very amazing women. One of those women was Heather, from Baytree AB. She is such a wonderful woman. Full of life, fun loving and just amazing. She lives on a farm in Alberta, that is home to llamas, donkeys and bunnies. This is also the homebase for
Buttery Bites Caramels
; some of the best homemade caramels on the planet.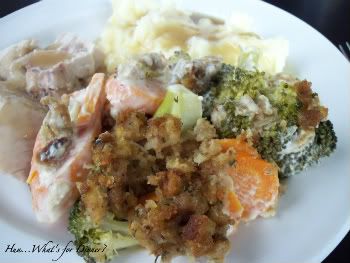 As I got to know Heather, I found out about her affinity for Stove Top Stuffing. So, when side dish week came around for the RWOP recipe contest, I decided to make a side dish featuring Stove Top, just for Heather. I must say, this is one of my favorite creations so far. I've come to love the combination of lemon and dill, with broccoli. The savory and cripsy stuffing crust rounded out the fresh flavors and made this side dish an amazing thing. This would truely be a perfect side for Thanksgiving!
Broccoli and Carrot Casserole
printable version
2 large carrots, cut into 1/4 inch rounds, on the diagonal
1 large bunch of broccoli, cut into florets
1 small onion, chopped
1 tbsp. of olive oil
8 ounce(s) of Dill PHILADELPHIA Cream Cheese
3/4 cup(s) of half and half
1 tsp. of lemon zest
1/2 lemon juiced
1/4 tsp. of salt
1/4 tsp. of fresh ground pepper
1 box of Chicken flavored Kraft Stove Top Stuffing
1 cup(s) of water
2 tbsp. of margarine
1 cloves garlic, minced
In a medium sized sauce pan, bring 1 C of water and margarine, to a boil.Stir in stuffing mix, cover, remove from heat and let sit 5 minutes.Uncover stuffing, to let it cool, so it's easier to handle.
In a skillet, heat the olive oil and add onion and garlic and cook over med low heat; until onion is translucent.Add the Dill PHILADELPHIA Cream Cheese and half and half; stirring to combine as it melts.Once fully combined add in lemon zest, lemon juice and season with salt and pepper.Turn the heat under the sauce to low and let it hang out, while you prepare the carrots.
In a bowl add the carrots and 3 Tbs water.Cover bowl with carrots and cook in the microwave for 4 minutes; until just tender.
In a larger bowl, combine the broccoli, the carrots and any remaining water, and the lemon dill sauce; ensuring that the vegetables are fully coasted with the sauce.Place in a 2 quart casserole dish and sprinkle evenly with cooled prepared stuffing.
Bake, covered, in a 375 degree oven for 25 minutes; until the broccoli is fork tender.Set oven to broil, uncover and broil for 3-4 minutes; until the top crisps up.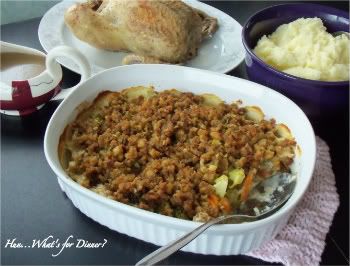 This post linked to
Make a Food-"e"-Friend Monday
Delicious Dishes
Tasty Tuesday