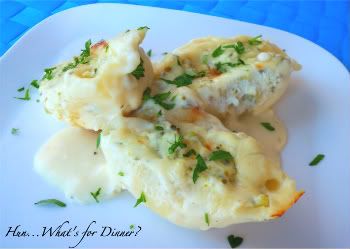 One of the things Hubby and I absolutely love is, pasta stuffed with cheese. It is one of our weaknesses and what saddens us is that the kids really don't care for it. After eating cheese ravenously, for a year, Queenie now detests cheese; in any way shape or form. She takes the cheese off pizza, refuses to eat any sandwich that contains cheese (well she does eat the occasional grilled cheese; with much prodding). So, when the kids were gone during the summer, I took the opportunity to make Hubby and I a wonderful dinner, that included some of our favorite foods. We started with
Sausage and Pepper Stuffed Portobellos
, followed by these yummy stuffed shells and
Rosemary Artisan Bread
. We finished off the meal with a new favourite;
Lemon Chess Pie
. It was a very outstanding meal, that we both extremely enjoyed (especially since there was no whining from the kids, about not liking what was for dinner, LOL).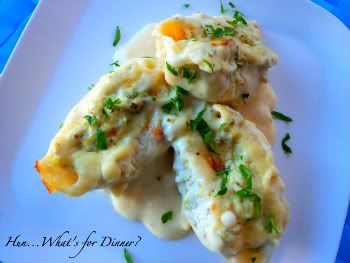 I love the combination of cheese with green vegetables. Their bitterness is softened by the salty creamy smoothness. These were super yummy. The savory cheese was studded with tender broccoli and topped with a smooth as silk cream sauce. These would be great for vegetarian guest and family members; but still delicious enough that meat eaters would enjoy them too.
Broccoli and Cheese Stuffed Shells


printable version



15 large shells
1-8 oz container ricotta cheese
1 egg
1 tsp onion powder
1 tsp garlic powder
1/2 tsp oregano
1/2 tsp basil
1 C finely chopped broccoli
1 C shredded mozzarella
3/4 C Parmesan, divided

Sauce:
2 Tbs olive oil
3 Tbs flour
1 C chicken stock
1 1/2 C milk
1 C Italian Style shredded cheese
salt & pepper

Boil shells in salted boiling water, until just al dente.
While shells are cooking, mix together ricotta, egg, garlic and onion powders, oregano, basil, mozzarella, Parmesan, salt and pepper. Stir in broccoli and mix well.
In a saucepan heat olive oil and add flour; mix well. Cook for 2 minutes. Slowly add chicken stock, whisking to ensure no lumps. Add in milk and bring up to a simmer. Simmer until thickened, about 5 minutes. Season with salt and pepper. Take off heat and stir in Italian Cheese blend.
Spread 1/2 the sauce in the bottom of a 9x13 inch baking dish. Stuff shells evenly with broccoli cheese mixture. Place stuffed shells in baking dish and top with remaining sauce. Sprinkle with 1/4 C Parmesan. Cover with foil and bake at 375 degrees, for 45 minutes. Remove foil and bake for 10 minutes longer. Let sit 5 minutes before serving.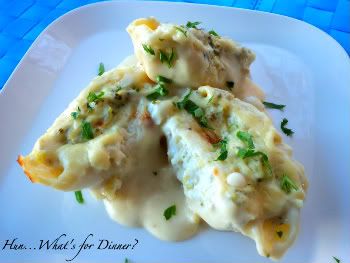 This post linked to
Made it on Monday
These Chicks Cooked
Turning the Tables Thursday
Full Plate Thursday