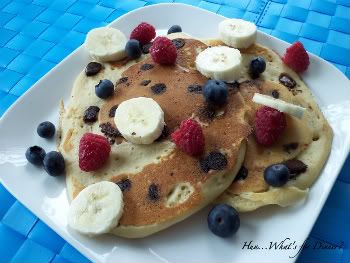 About once a month, I like to treat the kids to a really special breakfast. It's usually on a special day, or on the weekend, when we will be spending the whole day together. Even though we try to eat healthy and wholesome foods, sometimes it's fun to just indulge and treat ourselves. Since chocolate chip pancakes are so popular with the kids, I thought why not try to incorporate the flavours found in chocolate chip cookies. I started with my basic pancake recipe, subbing in the flavours of the cookie. White sugar became brown sugar, oil became melted butter and vanilla rounded everything out.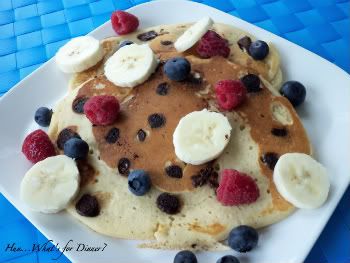 The kids really loved these and honestly so did I, LOL. I mean who could resist a fluffy pancake, studded with deep rich chocolate? The flavours were very close, but you still knew you were eating pancakes. They are fluffy, with a slight deep richness to them, thanks to the brown sugar and vanilla. And of course every one knows that if you add some healthy fruit in there, it cancels out the not so good stuff :o). So now we have another special breakfast for those days where we just want to indulge.
Chocolate Chip Cookie Pancakes
printable version
1 egg
3 Tbs brown sugar
3 Tbs melted butter
1/4 tsp salt
3/4 tsp vanilla
1 1/2 C flour
3 tsp baking soda
1/2-1 C milk
1 C semi sweet chocolate chips
sliced bananas, raspberries and blueberries/strawberries, to garnish
In a medium bowl whisk together the egg, brown sugar, melted butter, salt and vanilla. Add in the flour, baking powder and 1/2 C milk. Mix thoroughly, until a smooth batter is formed, adding more milk if too thick. Preheat a large skillet or griddle over medium heat. Lightly coat with oil and drop 1/3 C batter into the skillet, gently spreading the batter out with the back of the laddle (if the skillet is big enough, cook 2 pancakes at once). Sprinkle with chocolate chips and cook until the edges set and the top starts to bubble. Flip and cook until golden on second side, about 2-3 minutes. Garnish with bananas and berries before eating.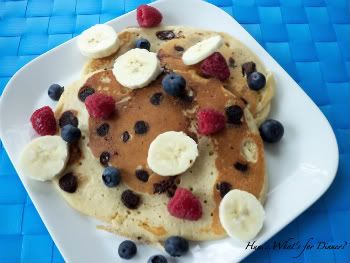 This post linked to
Full Plate Thursday
Turning the Table Thursday
Foodie Friday
Friday Potluck