This is a recipe that I found, while browsing through my Mom's many recipes. I'm not sure who she got this one from, since it was a hand written recipe. She has never made this cake and it really intrigued me with the addition of marshmallows and Pepsi. Two of my favorite things, LOL. With Mr.B gone to school everyday now, I have found that Queenie really enjoys helping me around the house. Wether it's in the kitchen, putting the silverware away, or folding wash cloths; she loves helping her Mommy. So, I've been making a point of letting her help in the kitchen, hoping it'll help with her 3 yr old pickiness. When she found out that the cake contained our secret ingredients, she was super excited to make it.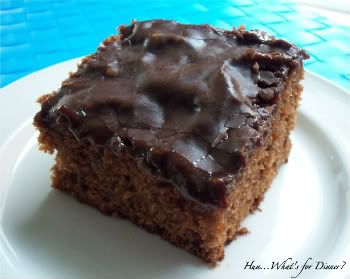 This cake is surprisingly good. I'm not sure why it's called a Crater Cake, maybe it's because once it cools slightly, the top is very bumpy. Or, maybe I was suppose to leave all the marshmallows in the middle of the batter, therefore making a crater in the cake. What ever the reason, it is a pretty yummy cake. The chocolate flavor isn't very strong, but it is moist with a hint of cola flavor. Everyone is enjoying this cake, as snack, dessert or even breakfast, LOL.
Crater Cake
printable version
1 C butter, melted
5 Tbs cocoa
1 C Pepsi (or your favorite cola)
2 C flour
1 1/2 C sugar
1/2 C butter milk
2 eggs, beaten
1 tsp baking soda
1/2 tsp salt
1 tsp vanilla
2 C mini marshmallows
Frosting:
1/4 C margarine or butter
1/3 C Pepsi or favorite cola)
3 Tbs cocoa
2 C powdered sugar
1 tsp vanilla
Preheat oven to 350 degrees.
In a sauce pot melt the butter. Mix in the cocoa and Pepsi; bring to a boil. In a large bowl combine the flour and sugar and add the boiling cola mixture, butter milk, eggs, baking soda, salt and vanilla. Mix well to combine. Stir in marshmallows. Pour batter into a greased 9x13 pan and bame for 35-45 minutes.
For Frosting:
In a sauce pot melt the margarine. Stir in cocoa and cola; bring to a boil. Remove from heat and whisk in powdered sugar and vanilla, until smooth. Pour over warm cake (it's ok if it is runny; it will thicken as it cools).
This post linked to
Baking with Bizzy
Fat Camp Friday
Friday Favorites
Sweets for a Saturday
Country Pot Luck