Happy Monday!
Hope everyone had a great weekend. We hit the apple orchard on Sunday and came home with 40lbs of apples. I see many apple recipes in the near future, so check back in for those.
On another note, I have some exciting news. A few weeks ago, a recipe that I had submitted to the Real Women of Philadelphia recipe contest, won a spot in the appetizer round. They chose my
Stuffed Pretzel Bites
, which will be published in the RWOP Community Cookbook. I am VERY excited to finally get one of my recipes published!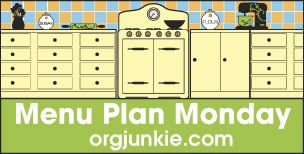 Well, as things go when school starts, Mr.B came home with a cold. As luc kmay have it, I woke up Saturday with a sore throat. It quickly went down hill from there and I fell like death warmed over, LOL. So this week's meals will be quite simple, and quick to throw together. Here is my plan
Head on over to
OrgJunkie.com
, for more meals plans for the week. Also linked to
Serve it up Sunday
.