Happy Monday!
I'm finally starting to feel better, though I'm still coughing. I'm glad to have my energy back, since my house looks like a total disaster area. I just hate being sick, because it seems like the family goes out of their way to make messes everywhere, LOL. I started getting the house back in order Sunday, and will finish up today. I'm also hoping to get some baking in this week, since I still have a ton of apples left.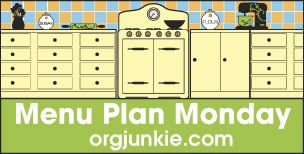 This week's menu will be simple. I'm not feeling very inspired and have limited meat in the freezer. I'm trying to plan around what the kids will eat, which totally differs from what I'd love to eat this week, LOL. I can't wait until Queenie grows out of her 3 yr old pickiness phase. So, here is the plan for the week
Porcupine Balls with green beans (I didn't get to these last week)
Pot Roast using pork loin chops
Chicken Thighs and Rice with Honey Lemon (new recipe) with broccoli
Broccoli Cheese Soup with homemade bread (didn't get to it last week)
Tacos with Mexican rice
Roast tomato and bacon pasta with bread sticks
leftovers
Head over to
OrgJunkie.com
, for more great meal plans!