Happy Labour Day everyone!!
Today is the last holiday of the summer and the last day, before school starts. That's right, Mr.B goes back to school tomorrow! (Insert happy dancer here, LOL) As much as I love spending time with the kids, this past month they have just been bickering with each other so much. Some one on one time with Queenie, is just what we need; and a regular structurized routine is exactly what Mr.B has been longing for, all week. I just hope we can get back into our routine, without too much stress.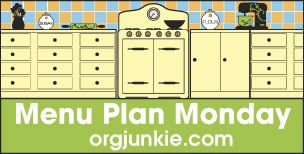 Since Mr.B will be in school full time this year, my back to school menu will focus on quick and easy, mixed with some crock pot meals. I'm hoping to get some more meal off the grill (I'll keep grilling until there is snow on the ground, LOL). I'm hoping I can adjust my dinner prep and get back into eating dinner earlier, since bedtimes will be earlier too. This summer we slept in late, went to bed late and ate late. So, here is my plan for our first week back to school. In no particular order
Spaghetti and Meatballs with garlic bread and salad
Artichoke Dip Grilled Cheese Sandwiches (new recipe) with spinach salad
Roast beef with creamed corn (new recipe) and green beans almondine (new recipe)
Sausage and pepper kabobs with rolls and pasta salad
Chicken Fried Rice
Hot beef sandwiches with peas
leftovers
Head on over to
OrgJunkie.com
, for more meal plans for the week.