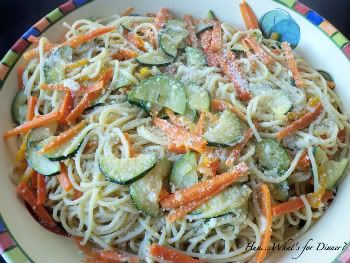 A few weeks back, Hubby's cousin came to visit for about a week. She is a vegetarian, so to make her feel at home, I made meat free dinner, most of the time she was here. I didn't mind one bit, since I would gladly go meat free 5 days out of the week. The guys (Hubby and nephew) weren't too thrilled about it, but they didn't complain. One of the dinners I made was this pasta primavera. I like this pasta, since it's so light and tasty. I first made a similar version of this recipe at my sister's, about 8 yrs ago. I had seen it in a Canadian Living cookbook. It was pretty simple, so I remembered the basic concept. This dish comes together in the time it takes to cook the pasta and uses tons of delicious fresh vegetables.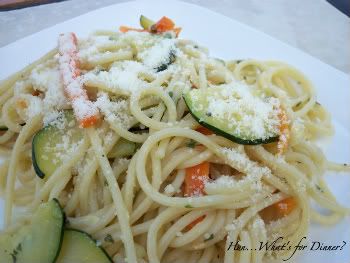 I used whole grain pasta, this time around. I'm trying to get us to all eat more whole grains and pasta is a perfect way to do so. It doesn't taste all that different, though the texture is a bit grainy-er. No one really noticed though.... well except for Hubby (I can't sneak anything past his palette). This was a big hit with the adults, but the kids had issues with the zucchini. After telling them to just push it to the side, everyone gobbled their dinner up. This is the perfect way to use up those summer veggies!
Pasta Primavera
printable version
3 Tbs olive oil
1 small onion, minced
2 cloves garlic minced
1 large zucchini (or 1 small zucchini and 1 small yellow squash), cut into half moons
1 yellow pepper (red or orange would also do), cut into thin strips
1 large carrot, cut into match sticks
1 C chicken stock or broth
2 Tbs butter
1/4 C Parmesan cheese
salt and pepper to taste
1 box whole wheat spaghetti
Bring a large pot of salted water to a boil. Place pasta in boiling water and cook to packaged directions.
While pasta cooks, heat oil in a large skillet. Add in onion and garlic and cook for 3 minutes. Add carrots and broth; cook for 5 minutes. Add in peppers and zucchini and season with salt and pepper; cook until zucchini is tender, about 7 minutes.
Drain pasta, reserving 1 C of water.
Once zucchini is tender, add the pasta water, butter and drained pasta; toss to combine. Sprinkle in Parmesan cheese, season with salt and pepper and gently toss again. Serve with additional Parmesan at the table.
Note:
Fresh summer peas and egg plant would also make a great addition to this pasta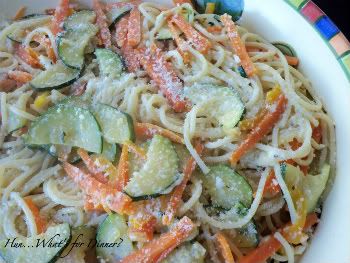 This post linked to
Make a Food-"e"-Friend Monday
Hearth and Soul
Delicious Dishes
Tasty Tuesday
Tuesday Night Supper Club
Recipe of the Week