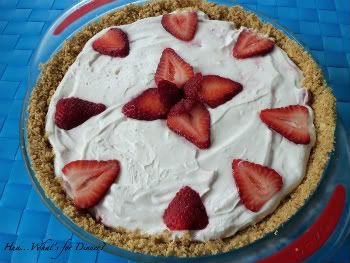 I've been trying to watch what I eat lately, in the never ending battle with my posterior and thighs. I find it very difficult, since I love baking, and I love desserts. I recently heard about
Skinny Taste
and decided to go over there to browse Gina's recipes. I was VERY happy to find tons of dessert recipes. In a perfect world I would be able to eat what I want and not gain an inch, but let's face it, that isn't possible (unless you're a teenage boy!).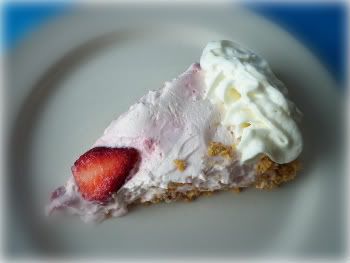 This recipe immediately caught my eye. Now Gina's version is blueberry cream, but I didn't have any fresh blueberries in the house, so I went with strawberry. This pie couldn't be simpler and it tastes great. Very light and fluffy, and not too sweet. The kids really enjoyed this one too. We all seem to love the mousse like filling of the pie. Now I was a bit nervous that the pie wouldn't set as is, so I added about 3 oz of 97% fat free cream cheese. It added a slight cheesecake taste to the pie, which I just loved.
Strawberry Cream Pie
Adapted from Skinny Taste
printable version
9 inch ready made reduced fat graham cracker crust (I made my own)
8 oz fat free Cool Whip
2 cups fresh strawberries, finely chopped and drained
2 (5.3 oz) fat free strawberry yogurt
3 oz -97% fat free cream cheese, softened
Combine Cool Whip, cream cheese and yogurt in a bowl. Gently fold in berries
.
Pour into pie crust and chill
in the refrigerator at least one hour. Keep refrigerated until serving.