One of our guilty pleasures is store bought hash brown patties. They remind me of the summers my family and I would take a trip to Toronto to do some sight seeing. We would always leave very early in the morning and we would stop at McDonald's, about 45 minutes from Toronto. I would always order the pancakes with 2 hash brown patties. I'd save them for last and just savour the crispy outer crust and creamy potato filling. Anytime I cook these up at home, it brings me back to those exciting times when I was a child.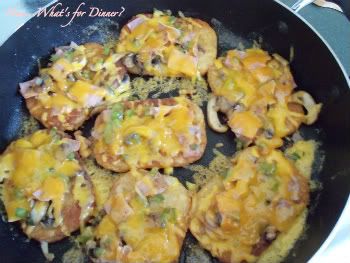 Being married to a Chef, many people think we eat extravagantly every night. When we lived in Tennessee, we lived next door to a butcher. He thought we ate like kings every night, and we thought they had prime rib and filet every night. It wasn't until a friendship blossomed, that we both found out it was far from the truth. Hubby is quite a simple person. Though he loves to occasionally cook elaborate and lavish meals, he is most happy eating simple foods. And he has many guilty pleasures that are far from luxurious. Hash browns are one of them.
While thinking of breakfast this past weekend I wondered how I could make these hash browns more like a complete meal, instead of a side dish. I decided to incorporate some of our favourite omelet flavours and top these with peppers, onion, mushrooms and cheese. Let me tell you, these were superb. The crisp and creamy potatoes paired so well with the savory vegetables and salty cheese. These truly were the perfect guilty pleasure breakfast.
Western Skillet Hash Browns
printable recipe
2 Tbs olive oil
1 small onion, chopped
1/2 green pepper, chopped
6 button mushrooms, sliced
salt and pepper
5 thin slices of deli ham, chopped
2 Tbs butter
6 frozen hash brown patties
1 C shredded sharp cheddar
In a small skillet heat the olive oil, over medium heat. Add onion, peppers and mushrooms, and cook until vegetables are tender. Season with salt and pepper and cook 1 minute longer. Add the ham and cook until slightly browned.
In a large skillet heat the butter over medium low heat. Add the hash browns and cook until golden brown and crispy, about 5-6 minutes. Flip the hash browns and cook on other side until golden, about 5 minutes. Top with sauteed vegetables and ham, sprinkle with cheese and cover. Turn heat off and let sit until cheese melts.
This post linked to
What's Cooking Wednesday
These Chicks Cooked
Full Plate Thursday
Turning the Table Thursday
Recipe of the Week