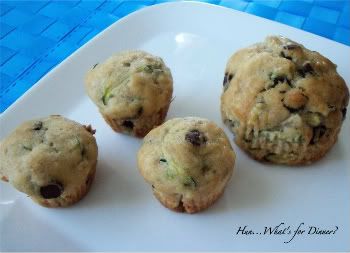 Interesting combination right? Zucchini and bananas. You'd never think to put them together. But I got to thinking what if I added bananas to zucchini muffins. I mean both muffins taste delicious separately, so why not put them together, to get added nutrition and a great muffin. The chocolate was really to ensure that these would be edible, but they would be even without it, LOL.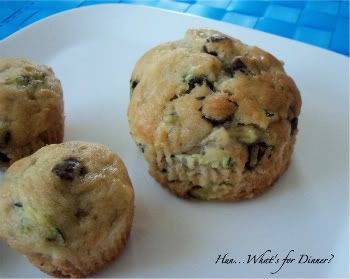 These muffins are amazingly moist and tender. I love the banana flavor with a slight hint of cinnamon. The chocolate just adds a deep rich flavor that brings everything together. The kids devoured about 5 of the mini muffins after school on Friday. I'm just glad I'm getting zucchini in them, one way or another. These could easily be converted to 2 loaves and they'd be the perfect gift. Not even the pickiest eater could turn these down.
Zucchini and Banana Chocolate Chip Muffins
printable version
2 cups Zucchini, Shredded
2 large Ripe Bananas, mashed
2/3 cup Sugar
1/2 cups Vegetable Oil
2 eggs
2 cups Flour
2-½ teaspoons Baking Powder
½ teaspoons Baking Soda
½ teaspoons Salt
1/4 teaspoons Cinnamon, Optional
1 cups Chocolate Chips
Preheat oven to 350 degrees. Prep muffin tins with liners and set aside.
In a medium sized bowl mix together the oil and sugar. Add in the eggs, banana and zucchini (that has been squeezed of excess water); mixing to combine well.
Add the dry ingredients and mix until just combined. Gently fold in the chocolate chips.
Spoon batter into each lined muffin tin; to 2/3 full. Bake for 20-25 minutes; until tops are slightly brown and a toothpick inserted in the center comes out clean.
For mini muffins: line mini muffin tin with liners. Spoon batter into lined tin; to 2/3 full. Bake for 10-14 minutes; until tops are slightly brown and toothpick inserted comes out clean.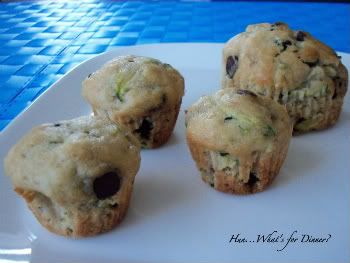 This post linked to
Bake with Bizzy
Friday Favorites
Fat Camp Friday
Sweets for a Saturday