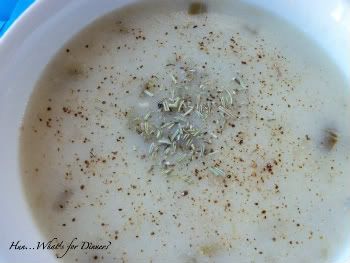 Recently, the lovely people at Andrew McMeel Publishing sent me a copy of
Lynn Alley's new cookbook-50 Simple Soups for the Slow Cooker
. I was super excited to receive this cookbook, since I love soup and anything I can make in the slow cooker, is a dream come true. I quickly skimmed through the book, only to bookmark many recipes that caught my eye. This potato soup was one of the first recipes I bookmarked. I mentioned it to Hubby, who agreed that this should be one of the first soups we try.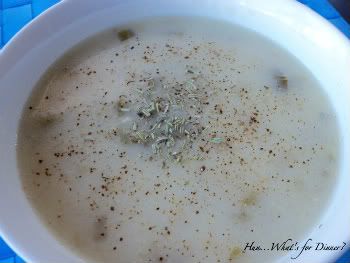 When Lynn says simple, she means simple. The soup took about 10 minutes to assemble and after the potatoes were done cooking, it literally took a few minutes to finish off. The flavor was fabulous. The pungent and tangy blue cheese made the soup so creamy, despite the absence of cream. I loved the garnish of rosemary at the end, though Hubby would have loved if the rosemary would have cooked with the potatoes, to infuse them with the flavour as well. This is a perfect savory soup for those cold winter nights, that make you want to put on fuzzy PJs and sink into something warm and comforting.
Blue Cheese Potato Soup
Adapted from Lynn Alley's 50 Simple Soups for the Slow Cooker
printable version
2 Tbs butter or ghee
1 medium onion, chopped
2 celery ribs, sliced
1 1/2 lbs small red or white potatoes, skins on
6 C water
8 oz blue cheese (domestic, Roquefort, Gorgonzola, or your favorite)
4 cloves garlic
Salt
Freshly ground black pepper
Chopped fresh rosemary, for garnishing
In a large saute pan, melt the butter over medium heat and saute the onion for about 10 minutes, or until slightly browned. Add the celery and cook for 2 minutes longer. Transfer the onion and celery to a 7 quart slow cooker and add the potatoes (but no water). Cover and cook on LOW for about 4 hours, or until the potatoes are very tender.
Add the water and blue cheese. Using a garlic press, mince the garlic into the soup. Add the salt to taste.
Using a handheld immersion blender, puree some of the ingredients to give the soup thickness and texture. For a more rustic feel, you can simply mash some of the potatoes with a potato masher. I like to leave it very lumpy and rustic looking with plenty of skin intact.
Ladle soup into bowl. Grind the fresh pepper over the tip and serve garnishes with rosemary.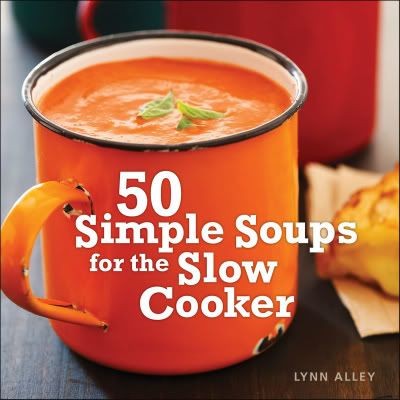 Since I was so excited about the cookbook, I contacted Andrew McMeel Publishing to thank them for sending it to me. When I mentioned wanting to purchase a copy, to offer to my readers, they generously offered to send one lucky HWFD? reader a copy of this awesome cookbook. With recipes like Black Bean Chili with Cornbread Crust and Spiced Apple Pie Soup, who wouldn't want to win a copy!
So, I am giving you all the chance to win a copy of Lynn's brand new book, which was just released on Sept 27th.
All you have to do is leave me a comment, telling me your favourite thing to make in your slow cooker
*. The giveaway will run from now, until Oct 31st. I will announce the winner on November 1st.
*If you'd like an extra entry, become a fan of Hun...What's for Dinner? on Facebook and leave me a comment saying you have or already are.
This post linked to
Cookbook Sunday
Hearth and Soul
Full Plate Thursday
Turning the Table Thursday